Adolescents victims of bullying. Presentation of a methodology for an international research
Le harcèlement chez les adolescents victimes : méthodologie d'une recherche internationale

Introduction
Bullying is a complex and global phenomenon. It is estimated that 100 to 600 million adolescents are affected worldwide. Many studies have examined bullying over the past twenty years, but French publications remain rare.

Objectives
The objectives of this article are to clarify the definition of bullying in order to circumscribe the framework of our qualitative research, and to present the methodology of an international research currently underway.

Patients and methods
Our sample consists of 40 ou 50 French, Brazilian and Turkish adolescents. These patients have the following characteristics: they are aged 12 to 18 years; they are consultants in specialized centers; they are interviewed at least three months after bullying has stopped, for ethical reasons and in order to evaluate the PTSD according to international classifications; finally, they show clinical signs related of psychological suffering to the trauma and traces of a controlling relationship. The criteria for non-inclusion are as follows: severe psychiatric disorders (active delusional pathologies), bullying still ongoing. In order to test our first hypothesis regarding the study of psychological and family vulnerabilities, we chose several tools: the non-directive research interview and the projective tests Rorschach, TAT, family drawing and house drawing. In order to test our second hypothesis regarding the consequences of bullying, namely the study of symptoms of post-traumatic stress, we chose three tools: the non-directive research interview, the TraumaQ and the SCL-90.

Results
Following a review of the literature and in support of our clinical practice and the initial data from this research, we discussed complementary criteria for defining bullying, in addition to those usually mentioned, in other words: repetition, intensity, frequency and the power of imbalance. Bullying, as a violent relational process, includes clinical signs of acute psychological suffering that often reveal the presence of symptoms of post-traumatic stress and traces of control mechanisms in the victim that are found in any emotional abuse. We have also focused our definition on two essential dimensions: adolescence and the group, and more particularly on taking into account adolescence as a time of narcissistic fragility and the reactivation of psychological problems, which often make it necessary to support a group of peers. This support appears all the more "vital" as these young people move away from their family group at the same time. In these circumstances, some adolescents, who are identified as having family and psychological vulnerabilities and who have difficulty positioning themselves in a group, may become "easy" prey and be subjected to violence. Without considering a typical bullied profile, the question of psychological vulnerabilities and in particular trauma, i.e. the appetite for repeated trauma and overexposure to potentially traumatic situations, is an interesting avenue.

Conclusion
The complexity of bullying lies in the superposition of family and individual factors. Like any violence, it has long-term effects, and it seems essential to offer specific care that makes it possible, in addition to alleviating suffering by providing support, to carry out a thorough analysis of the psychological issues underlying the establishment of a controlling relationship and its sustainability. The secondary prevention component, which includes specific care beyond primary prevention programs in schools, therefore seems important to us to develop. At the end of this article, we will detail the care support which combines the forum theatre method and a multi-family group that we suggest to the victims of bullying.

Introduction
Le harcèlement est un phénomène complexe et mondial. De 100 à 600 millions d'adolescents seraient concernés dans le monde. De nombreuses études se sont penchées sur ce phénomène ces vingt dernières années, mais les publications portant sur des recherches françaises restent relativement rares.

Objectifs
Un des objectifs de cet article est d'apporter des précisions concernant la définition du harcèlement afin de circonscrire le cadre de notre recherche. Outre les cinq facteurs habituellement cités dans les études, la fréquence, la durée, l'intensité, la répétition et l'asymétrie, nous avons postulé que la définition du harcèlement à l'adolescence ne pouvait se départir d'autres éléments tels que l'adolescence et le groupe. Quant à son repérage clinique, des signes de souffrance psychique aiguë ayant trait au traumatisme et aux traces d'une relation d'emprise, retrouvés dans toute violence, peuvent être relevés.

Patients et méthodes
L'autre objectif de cet article, est de présenter la méthodologie d'une recherche clinique internationale à méthodologie mixte (outils qualitatifs entretiens, épreuves projectives et outils à méthodologie quantitative : questionnaires) actuellement en cours.

Résultats
À l'appui d'une revue de la littérature internationale, de notre pratique clinique et des premières données analysées (non encore publiées), nous en avons déduit que la complexité du harcèlement tenait en la superposition de vulnérabilités psychologiques et familiales.

Conclusion
Pour conclure, nous avons proposé un dispositif de prise en charge spécifique de prévention secondaire (théâtre-forum et groupe multifamilles).
Fichier principal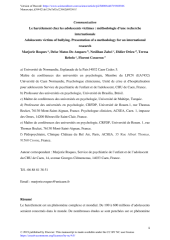 S0003448719302926.pdf (220.29 Ko)
Télécharger le fichier
Origin : Files produced by the author(s)