Youth is a foreign land. Forms of culturalism in evaluating the age of unaccompanied foreign minors
Étrange jeunesse, jeunesse étrangère.
Foreign minors who arrive unaccompanied on French soil must be taken into care by the French child welfare services. But this assistance is conditional on them being "really" minors. There is consequently a system for evaluating the age of these young people which is based in particular on the analysis of their narratives. It is through dialogue between young people and evaluators that a culturally situated appreciation of the credibility of these young people is established. Their experiences of school, family structures, self-presentation, the expression of their feelings, and the way they tell their journey, are all elements through which a "culturalised" other can be perceived.
Les mineurs étrangers qui se trouvent isolés sur le territoire français doivent faire l'objet d'une prise en charge par l'aide sociale à l'enfance. Mais cette prise en charge est bien sûr conditionnée à ce qu'ils soient « vraiment » mineurs. Se met alors en place un système d'évaluation de l'âge de ces jeunes qui repose notamment sur l'analyse de leurs récits. C'est dans ce dialogue entre jeunes et évaluateurs que se fait jour une appréciation culturellement située de la crédibilité des évalués. Parcours scolaires, structures familiales, mise en scène de soi et de ses sentiments, mise en récit de son voyage sont alors autant d'éléments où apparaît la perception d'un autre « culturalisé ».
Fichier principal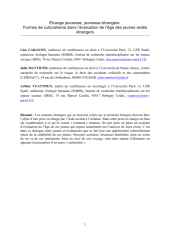 Carayon_matiussi_vuattoux Etrange jeunesse Jeunesse étrangère Agora 2019.pdf (342.05 Ko)
Télécharger le fichier
Origin : Files produced by the author(s)