L'apprentissage de l'anglais par le jeu dramatique et les techniques dramatiques en IUT : dispositifs de professionnalisation et de socialisation.
In this article, we shall make the list of the elements that facilitate or hamper the learning of English when it comes to implementing dramatic activities and drama with a pedagogical aim in a business school. We are committed to determining the factors that enable students in Business English to consolidate their skills in English (from linguistic, sociolinguistic and pragmatic standpoints) and to develop more general competencies (such as self-confidence, the management of space and time, interpersonal relationships) through drama. Our article aims at analysing to what extent these skills are then transferable to real communication situations. Our research comes within the scope of a « communic-actional » approach of English learning. It relies on the notions of « distanciation », « fragmentation » and « spect-actors » of playwrights Bertolt Brecht and Augusto Boal so as to be given a scientific frame.
Cet article se propose de recenser les éléments facilitateurs et les éléments perturbateurs lors de l'acquisition de l'anglais par le jeu dramatique et les techniques dramatiques pour des étudiants de DUT Gestion Administrative et Commerciale des Organisations (GACO). Nous nous engageons à déterminer les facteurs qui permettent la consolidation des compétences en langue anglaise (sur les plans linguistique, sociolinguistique et pragmatique) et le développement de compétences plus générales (telles la confiance en soi, la gestion de l'espace et du temps, les relations interpersonnelles) à travers le jeu dramatique. Le but de notre contribution sera de constater à quel point ces compétences sont ensuite transférables en situation réelle de c o m m u n i c a t i on. Notre d é m a r c h e s ' i n s c r i t d a n s u ne app r o c h e « c o m m u n i c-actionnelle » (Bourguignon 2006) de la didactique des langues. Nous nous inspirons des notions dramaturgiques de « distanciation », « fragmentation » et « spect-acteurs » de Bertolt Brecht et Augusto Boal afin de fournir un cadre conceptuel à nos recherches.
Fichier principal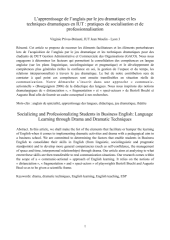 LEND- VPB.pdf (1.93 Mo)
Télécharger le fichier
Origin : Files produced by the author(s)