Atelier SITraDA (Systèmes d'Information et Traitements de Données Archéologiques) : compte rendu 2016 (année universitaire 2015-2016)
The SITraDA workshop is a place for methodological exchanges based on works and projects on information systems and/or data processing in archaeology. The workshop is open to doctoral students and students, as well as to archaeological researchers and practitioners with projects in a professional context. The workshop comprises four themes: 1 - methods and tools for recording and processing field data ; 2 - urban and territorial archaeological syntheses; 3 - series and typologies; 4 - multidimensional exploration of cross-sources for archaeology. The workshop is part of the dual framework of the University of Paris 1 (as a doctoral seminar in the training offer of the ED 112 doctoral school) and of the transversal programme ArchéoFab - Archaeology of the Paris Basin within the UMR 7041 ArScAn.
L'atelier SITraDA est un lieu d'échanges méthodologiques autour de travaux et projets de systèmes d'information et / ou de traitements des données appliqués à l'archéologie. L'atelier est ouvert aux doctorants et étudiants, ainsi qu'aux chercheurs et praticiens de l'archéologie porteurs de projets dans un cadre professionnel. L'atelier comprend quatre thématiques : 1 – méthodes et outils d'enregistrement et de traitement des données de terrain ; 2 – synthèses archéologiques urbaines et territoriales ; 3 – sériations et typologies des éléments matériels ; 4 – exploration multidimensionnelle de sources croisées pour l'archéologie. L'atelier s'inscrit dans le double cadre de l'université de Paris 1 (il est reconnu comme séminaire de parcours doctoral dans l'offre de formation de l'école doctorale ED 112- ) et du programme transversal ArchéoFab – Archéologie du Bassin Parisien au sein de l'UMR 7041 ArScAn.
Fichier principal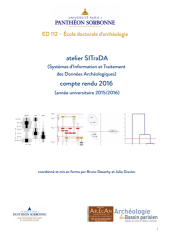 2016_CR_SITRADA.pdf (7.49 Mo)
Télécharger le fichier
Origin : Files produced by the author(s)