Do sirens ares useful to alert population in case of flash floods in France?
Les sirènes sont-elles pertinentes pour alerter la population en cas de crues rapides en France ?
After different failures observed in the use of church tombs for alerting the population during the early 1930 and under a passive defense following the Second World War, the French government have decided to deploy the National Alert Network (NAN) since 1954. The signal sent by the sirens was intended to interrupt all the social activities, and the sound was likely to induce "adapted" behavior by the concerned authorities but also by the inhabitants. However, the NAN remains often not used to alert population, as recalled after the flash floods observed in the Aude basin river the 2018, October, 15th. Thus, this article involves to a further assessment and evaluation of supports and drawbacks of the NAN face to flash floods. Results obtained in the department of Vaucluse confirms that most of the sirens are not located in sensitive areas, thus we cannot hope to use such notifications for alerting the populations. Several improvements are explored, namely because the government has decided to replace this NAN with a new system, SAIP (System of Alert and Information for the Population), whose deployment began at the metropolitan scale in 2017 and whose operationality is expected for 2022.
Depuis 1954, sous couvert d'une défense passive post-Seconde Guerre Mondiale, et pour pallier les défaillances d'utilisation des tocsins des églises pendant les inondations de 1930, l'État a déployé en France le RNA (Réseau National d'Alerte), composé essentiellement de sirènes. Le signal associé était destiné à interrompre toutes les activités sociales, et il était censé induire un comportement « approprié » de la part des autorités et des habitants concernés pour face à un danger, quelle qu'en soit la nature. Mais au fil des années, le RNA est devenu désuet et vieillissant et dans la majorité des cas, l'hésitation et les incertitudes sur les évolutions attendues des aléas en cours conduisent plus les autorités à une inaction plus qu'à une réelle réactivité. Pour autant, les sirènes restent l'outil prioritaire en France, et le nouveau système SAIP (Système d'Alerte et d'Information de la Population), dont l'opérationnalité est attendue pour 2022, conforte la priorité actée par les gouvernements à un tel vecteur. Cet article a alors pour but d'évaluer la pertinence de ce choix, éminemment politique, notamment pour l'alerte à la population en cas de crues rapides. Après avoir rappelé le contexte institutionnel, les avantages et limites de l'alerte par sirènes, nous avons mesuré la pertinence du réseau actuel dans le Vaucluse, en montrant notamment l'inadéquation de la localisation des sirènes par rapport aux zones à risque, et plusieurs axes d'amélioration des systèmes d'alerte sont proposés, en mesurant notamment les bénéfices à attendre d'une relocation des sirènes.
Fichier principal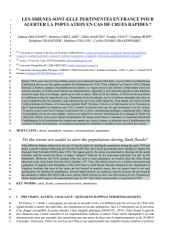 lhb180005rev4-1.pdf (5.89 Mo)
Télécharger le fichier
Origin : Files produced by the author(s)