Berlusconi, bouffonnerie ou métaphore ?
Anlässlich eines kritischen Porträts von Silvio Berlusconi, dessen durch einen günstigen historischen Kontext begünstigter Machtantritt nach dem Verschwinden der beiden großen Parteien, die die italienische Geschichte von der Befreiung bis in die 90er Jahre prägten, der Christdemokraten und der Kommunistischen Partei Italiens, obwohl sein beruflicher Erfolg höchst fragwürdig ist, beschreibt dieser Artikel seinen persönlichen Machteinsatz während der sieben Jahre, in denen er Präsident des Rates war. Diese "demokratische Illusion" veranschaulicht ein neues Verständnis von Politik, das durch die neoliberale Transformation des Staates gefördert wird, wo die allgemeine Deregulierung der Wirtschaft paradoxerweise mit einer ungezügelten Personalisierung und dem Schreiben von Macht einhergeht.
On the occasion of a critical portrait of Silvio Berlusconi, whose accession to power, encouraged by a favourable historical context, after the disappearance of the two major parties that shaped Italian history from the Liberation to the 1990s, the Christian Democrats and the Italian Communist Party, even though his professional success is highly questionable, this article describes his personal use of power during the seven years he was President of the Council. This "democratic illusion" illustrates a new apprehension of politics, fostered by the neo-liberal transformation of the state, where the generalized deregulation of the economy is paradoxically accompanied by an unbridled personalization and scriptwriting of power.
Con ocasión de un retrato crítico de Silvio Berlusconi, cuya llegada al poder, favorecida por un contexto histórico favorable, tras la desaparición de los dos grandes partidos que marcaron la historia de Italia desde la Liberación hasta los años 90, los democristianos y el Partido Comunista Italiano, aunque su éxito profesional sea muy cuestionable, este artículo describe su uso personal del poder durante los siete años en los que fue Presidente del Consejo. Esta "ilusión democrática" ilustra una nueva aprehensión de la política, fomentada por la transformación neoliberal del Estado, donde la desregulación generalizada de la economía va paradójicamente acompañada de una personalización y escritura desenfrenada del poder.
A l'occasion d'un portrait critique de Silvio Berlusconi, dont on retrace l'accession au pouvoir, favorisé par un contexte historique favorable, après la disparition des deux grands partis ayant façonné l'Histoire italienne depuis la Libération jusqu'aux années 1990, la Démocratie chrétienne et le Parti communiste italien, alors même que sa réussite professionnelle est fortement sujette à caution, on s'est attaché à décrire dans cet article l'instrumentalisation personnelle qu'il fit du pouvoir pendant les sept années où il fit président du Conseil. Cette « illusion démocratique » illustre une nouvelle appréhension du politique, favorisée par la transformation néolibérale de l'Etat, où la dérégulation généralisée de l'économie s'accompagne paradoxalement d'une personnalisation et d'une scénarisation effrénée du pouvoir.
In occasione di un ritratto critico di Silvio Berlusconi, la cui ascesa al potere, favorita da un contesto storico favorevole, viene raccontata, dopo la scomparsa dei due grandi partiti che hanno fatto la storia italiana dalla Liberazione agli anni Novanta, la Democrazia Cristiana e il Partito Comunista Italiano, anche se il suo successo professionale è altamente discutibile, questo articolo descrive la strumentalizzazione personale del potere che ha fatto durante i sette anni di presidenza del Consiglio. Questa "illusione democratica" illustra una nuova concezione della politica, favorita dalla trasformazione neoliberale dello Stato, dove la deregolamentazione generalizzata dell'economia è paradossalmente accompagnata da una personalizzazione e da uno scenario di potere sfrenato.
Por ocasião de um retrato crítico de Silvio Berlusconi, cuja adesão ao poder, favorecida por um contexto histórico favorável, após o desaparecimento dos dois principais partidos que tinham moldado a história italiana desde a Libertação até aos anos 90, a Democracia Cristã e o Partido Comunista Italiano, embora o seu sucesso profissional seja altamente questionável, este artigo pretende descrever a instrumentalização pessoal do poder que ele fez durante os seus sete anos como Presidente do Conselho. Esta "ilusão democrática" ilustra uma nova compreensão da política, fomentada pela transformação neoliberal do Estado, onde a desregulamentação generalizada da economia é paradoxalmente acompanhada por uma personalização e uma escrita frenética do poder.
По случаю критического портрета Сильвио Берлускони, чей приход к власти, обусловленный благоприятным историческим контекстом, после исчезновения двух основных партий, определявших историю Италии со времен Освобождения до 1990-х годов, Христианской демократии и Итальянской коммунистической партии, несмотря на то, что его профессиональный успех весьма сомнителен, эта статья ставит своей целью описать личную инструментализацию власти, которую он осуществил за семь лет своего пребывания на посту председателя Совета. Эта "демократическая иллюзия" иллюстрирует новое понимание политики, которому благоприятствует неолиберальная трансформация государства, где всеобщее дерегулирование экономики парадоксальным образом сопровождается персонализацией и безудержным сценарием власти.
在对西尔维奥-贝卢斯科尼(Silvio Berlusconi)进行批判性描写之际,他在有利的历史背景下,在从解放时期到20世纪90年代塑造了意大利历史的两个主要政党--基督教民主党和意大利共产党--消失之后上台,尽管他的职业成就非常值得怀疑,本文着手描述他在担任理事会主席的七年里对权力的个人工具化。这种 "民主幻觉 "说明了一种对政治的新理解,它受到新自由主义国家转型的青睐,在这种情况下,对经济的普遍放松管制自相矛盾地伴随着权力的个人化和无节制的编排。
Fichier principal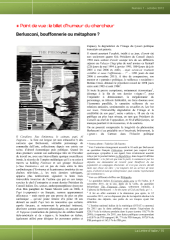 LLI_1_oct2012.pdf-15-23 (1).pdf (15.44 Mo)
Télécharger le fichier
Origin : Explicit agreement for this submission