Regards sur le nouveau droit des données personnelles
Just over 40 years after the entry into force in France of the "informatique et libertés" law, the law on personal data seems to have progressed dramatically. In 2018, the new European regulation (known as the " GDPR ") came into force. A law and then an ordinance adapted French domestic law accordingly. The first part of 2019 was marked by the rise of the sanctions imposed by the CNIL. Some of the contributions collected in this book address cross-cutting issues related to the new regulation, such as its territorial scope, competition from the American model, the scope of the notion of data controller, the existence of post-mortem rights over the data, or the limits of the principle of transparency in the face of the opacity of predictive algorithms. Others focus on a particular sector, whether it is banking, health, insurance or data on public officials.
À peine plus de 40 ans après l'entrée en vigueur, en France, de la loi « informatique et libertés », le droit des données à caractère personnel semble avoir progressé de manière spectaculaire. Durant l'année 2018, le nouveau règlement européen (dit « RGPD ») est entré en application. Une loi, puis une ordonnance ont adapté le droit interne français en conséquence. La première partie de l'année 2019 a été marquée par la montée en puissance des sanctions prononcées par la CNIL. Certaines contributions rassemblées dans cet ouvrage abordent des questions transversales touchant à la nouvelle réglementation, comme son champ d'application territorial, la concurrence du modèle américain, l'étendue de la notion de responsable de traitement, l'existence de droits post-mortem sur les données, ou les limites du principe de transparence face à l'opacité des algorithmes prédictifs. D'autres se concentrent sur un secteur particulier, qu'il s'agisse de la banque, de la santé, de l'assurance ou des données relatives aux responsables publics.
Fichier principal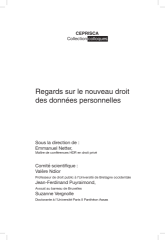 DONNEES PERSONNELLES CEPRISCA FINAL.pdf (1.65 Mo)
Télécharger le fichier
Origin : Explicit agreement for this submission