Arts de la scène et Big Data. Retracer et analyser le processus de création d'un spectacle grâce à la visualisation de données
The application of Big Data to performing arts is officially in its early stages. The first conference explicitly dedicated to the issue, given in 2013, focused on archivists and researchers faced with Big Data in digitized collections and archival funds. It remains nonetheless as important to consider digital material produced and kept by artists and their support teams. Today, they contain the main footprints of performances and creative processes. How can a creative process be reconstructed from thousands of documents? How data-visualization can contribute to the analysis of a creation process ? The first part of this paper analyses distant reading experiments in performing arts research. The second part describes the creation of Rekall, an open-source environment to document, analyse the creative process and simplify the re-enactment of performances.
Au théâtre, le Big Data en est officiellement à ses débuts. La première conférence explicite sur le sujet, en 2013, concerne les archivistes et les chercheurs, lesquels sont confrontés au Big Data des collections et des fonds d'archives numérisés. Il est néanmoins important de considérer les documents numériques produits et conservés par les artistes et leurs équipes. Ils recèlent aujourd'hui les traces principales des spectacles et de leurs processus de création. Comment retracer un processus de création à partir de centaine, voire de milliers de documents ? En quoi la visualisation de données peut-elle contribuer à l'analyse du dossier génétique d'une œuvre ? La première partie de l'article revient sur des expériences de distant reading dans les recherches en arts de la scène. La seconde partie examine plus particulièrement la création de Rekall, un environnement open-source pour documenter, analyser les processus de création et simplifier la reprise des œuvres.
Fichier principal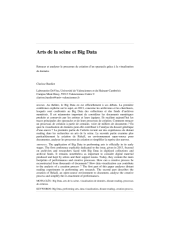 texte-h2ptm-bardiot-revu2.pdf (483.98 Ko)
Télécharger le fichier
Origin : Files produced by the author(s)