Les capsules vidéo de MemoRekall: la conjugaison des approches intra et inter- documentaire au service de la médiation numérique des arts de la scène
Following the Tate Modern, several museums have created since 2004 a department specialized in time-based media art. Time-based media artworks have duration as a dimension. Performances belong to them. Documentation is then crucial to preserve the works. Video-recording has a unique place among the documents, by the importance given to it and by the frequent criticism it has received. Two types of approaches are proposed to remedy weaknesses identified : intra-documentary (video annotation) and inter-documentary (links to other documents). After surveying these two strategies through recent examples, I will present MemoRekall, a webapp which gather intra and inter-documentary approaches in a unique HMI. Linked documents and annotations create a new document, a "capsule". Far beyond the initial objective, MemoRekall can be used for many purposes and contexts.
A la suite de la Tate Modern en 2004, plusieurs musées se sont dotés d'un département intitulé time-based media art. Celui-ci regroupe des œuvres caractérisées par leur durée, dont des performances. Leur conservation repose sur la documentation. Parmi les documents, la captation vidéo occupe une place à part, par l'importance qui lui est accordée et par les nombreuses critiques qui lui sont faites. Les technologies numériques proposent deux types d'approches pour pallier aux biais de la captation : intra-documentaire (annoter la captation) et inter-documentaire (connecter la captation à un corpus documentaire plus vaste). Après avoir analysé ces deux stratégies au travers d'exemples récents, nous présentons MemoRekall, une application web qui permet de les réunir au sein d'une même interface homme-machine. L'agencement des ressources documentaires et des annotations crée un nouveau document, une capsule. Au-delà de l'objectif initial de conservation des œuvres, MemoRekall propose de nombreux scénarios d'usages.
Fichier principal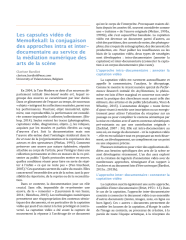 635.pdf (186.22 Ko)
Télécharger le fichier
Origin : Files produced by the author(s)