La revue INRA Productions Animales dans la production scientifique en élevage et sciences animales
For 30 years, the journal "INRA Productions Animales" has published mainly review articles on all subjects concerning animal production to a broad audience of users of research results. This article proposes an analysis of the position of the journal and its evolution in the scientific literature at the international, european and INRA level using data from the "Web of Science™" (WOS) database and the category "Agriculture, dairy and animal sciences" in which the journal has been indexed since 1997. Between 1997 and 2017, scientific production in this WOS category (9 000 articles in 2017) has been multiplied by two. During this period, the number of articles published each year by INRA (about 250) and by the journal (between 30 and 35) has been stable. France is the seventh largest contributor to the WOS category behind the US, India, China, Brazil, Germany and Canada. The lexical analysis of all the references of the WOS category shows a great stability of the most frequently used terms, which remain dominated by production issues. However, the analysis of the evolution of the publications clearly shows the emergence and the rise of research carried out on livestock production systems, animal welfare and genomic selection, both in europe and at INRA. In the end, the research conducted by INRA in the field of animal production, and in particular those disseminated by the journal INRA Productions Animales, correspond to research conducted at the european level.
Depuis 30 ans, la revue INRA Productions Animales publie principalement des articles de synthèse sur tous les sujets concernant les productions animales à destination d'un large public d'utilisateurs des résultats de la recherche. À partir de la base de données « Web of Science ™ » (WOS) et dans le périmètre limité à la catégorie « Agriculture, dairy and animal sciences » dans laquelle la revue est indexée depuis 1997, cet article propose une analyse du positionnement de la revue dans la littérature scientifique internationale, européenne et de l'INRA. Dans une production scientifique multipliée par deux entre 1997 et 2017 dans cette WOS catégorie (9000 articles en 2017), le nombre d'articles publiés chaque année par l'INRA (environ 250) et par la revue (entre 30 et 35) est stable. La France est le 7ème pays contributeur derrière les USA, l'Inde, la Chine, le Brésil, l'Allemagne et le Canada. L'analyse lexicale de l'ensemble des références du WOS montre une grande stabilité des termes les plus fréquemment utilisés qui restent dominés par les problématiques de production. En revanche, l'analyse de l'évolution des publications montre clairement l'émergence et la montée en puissance des recherches menées sur les systèmes d'élevage, le bien-être animal et la sélection génomique, à la fois en Europe et à l'INRA. Au final, les recherches conduites par l'INRA dans le domaine des productions animales, et en particulier celles diffusées par la revue INRA Productions Animales, sont au diapason des recherches conduites à l'échelle européenne.
Fichier principal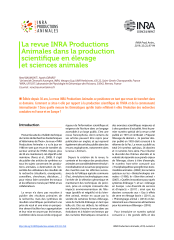 2019_Baumont_ProdAnim.pdf (4.88 Mo)
Télécharger le fichier
Origin : Explicit agreement for this submission