Des conseils citoyens inadaptés à la participation des jeunes ? Retour sur trois expérimentations dans des quartiers populaires de la périphérie lyonnaise
This article analyses the creation of citizen councils under the perspective of youth participation in working class neighborhoods based on educational experiments that took place on three research fields in the urban areas of Lyon in France (Saint-Fons, Vaulx-en-Velin and Grigny). It questions the ability of this new participatory system to integrate young people who usually struggle to get involved in city stakes. Although conceived on different practical modalities, these three experiments bring out two major results. Firstly, the mobilization of the youth, although wanted, stays constrained by a set of common fragilities which occur in complicated socio-professional trajectories, a distant and distrustful relationship to local institutions and a deep feeling of illegitimacy concerning citizen participation. Secondly, the participatory norm related to the functioning of citizen councils has not adjusted well to the expectations of the public. It contributes, under these circumstances, to reproducing the mechanisms which usually turn away young people of working class neighborhoods from institutionalized participation.
Cet article s'intéresse à la création des conseils citoyens sous l'angle de la participation des jeunes des quartiers populaires. A partir d'expérimentations pédagogiques réalisées sur trois terrains de l'agglomération lyonnaise (Saint-Fons, Vaulx-en-Velin et Grigny), il interroge la capacité de ces nouveaux dispositifs participatifs à intégrer des publics de jeunes qui peinent en général à se mobiliser sur les enjeux de la cité. Bien que conçus selon des modalités pratiques différentes, ces trois supports d'analyse permettent néanmoins de mettre en forme deux résultats principaux. Le premier est que la mobilisation des jeunes, même souhaitée, reste contrainte par un ensemble de fragilités communes qui se manifestent dans des trajectoires scolaires et socio-professionnelles mouvementées, un rapport distancié et méfiant envers les institutions locales et un profond sentiment d'illégitimité vis-à-vis de la participation citoyenne. Le second est que la norme participative associée au fonctionnement des conseils citoyens s'ajuste mal aux attentes de ces publics et contribue, dans ces conditions, à reproduire les mécanismes qui détournent habituellement les jeunes des quartiers populaires des dispositifs de participation institutionnalisés.
Fichier principal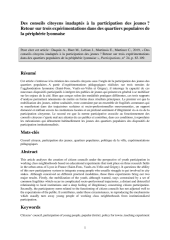 Article Jeunes et CC (v6).pdf (297.32 Ko)
Télécharger le fichier
Origin : Files produced by the author(s)