Miria Contreras Bell (La Payita): Epistemological Challenges to a Biography
Miria Contreras Bell (La Payita): Desafíos epistemológicos para una biografía
Miria Contreras Bell (La Payita) : les défis épistémologiques d'une biographie
By bringing into dialogue questions specific to the Global Microhistory and History of Emotions, this article seeks to lay the theoretical foundations for a "biography in context" of Miria Contreras Bell (1928-2002), personal secretary and close friend of Chilean President Salvador Allende (1970-1973). The analysis of the sources used, mainly interviews, press releases, and correspondence, complemented by testimonies taken from biographical and autobiographical studies of other actors, seeks to understand two fundamental and dialectically linked commitments in her life: art and politics. The temporal limits of this work do not cover the entire existence of Miria Contreras, stretching from the 1960s to her death in 2002, but are rather inscribed in the chronologies of the Cold War (1947-1991), while at the same time exceeding them, in order to understand the ideological and memorial conflicts existing around our biographed figure.
Al hacer dialogar aspectos de la microhistoria global y de la historia de las emociones, este artículo pretende sentar las bases teóricas de una "biografía en contexto" de Miria Contreras Bell (1928-2002), secretaria personal y amiga íntima del presidente chileno Salvador Allende (1970-1973). El análisis de las fuentes utilizadas, principalmente entrevistas, recortes de prensa y correspondencia, completadas por testimonios extraídos de estudios biográficos y autobiográficos de otros actores, busca comprender dos compromisos fundamentales y dialécticamente vinculados en su vida: el arte y la política. Los límites temporales de este trabajo no abarcan toda la existencia de Miria Contreras, extendiéndose desde los años 60 hasta su muerte en 2002, sino que se inscriben en las cronologías de la Guerra Fría (1947-1991), al tiempo que las trascienden, para comprender los conflictos ideológicos y memoriales que existen en torno a la figura de nuestra biografiada.
Faisant dialoguer des questionnements propres à la micro-histoire globale et à l'histoire des émotions, cet article cherche à poser les bases théoriques pour une « biographie en contexte » de Miria Contreras Bell (1928-2002), secrétaire personnelle et amie intime du président chilien Salvador Allende (1970-1973). L'analyse des sources utilisées, majoritairement des entretiens, des coupures de presse et des correspondances, complétées par des témoignages extraits d'études biographiques et autobiographiques relatives à d'autres acteurs, cherche à appréhender deux engagements fondamentaux et dialectiquement liés de sa vie : l'art et la politique. Les limites temporelles de ce travail ne couvrent pas toute l'existence de Miria Contreras, s'étirant des années 1960 à sa mort en 2002, elles s'inscrivent dans les chronologies de la guerre froide (1947-1991), tout en les dépassant, afin de comprendre les conflits idéologiques et mémoriels existant autour de la figure de notre biographiée.
Fichier principal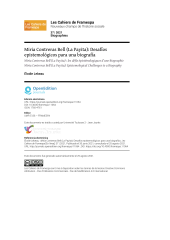 LEBEAU-framespa-article définitif.pdf (509.1 Ko)
Télécharger le fichier
Origin : Publisher files allowed on an open archive