Contexte archéologique des dispositifs pariétaux de Reverdit et de Cap-Blanc : nouvelles données
The re-examination of the parietal sculptures in Reverdit and Cap-Blanc rock-shelters showed the presence of sculpture renewals attesting the existence of two successive graphic compositions. In order to test if these successive compositions could be related to different chronocultural occupations, part of the lithic and osseous industries of Reverdit (Delage collection, IPH) and Cap-Blanc (Lalanne collection, Musée d'Aquitaine) were analyzed. Eleven 14C dates on osseous industry were also carried out. In both sites, the results yield evidence of occupations from the Badegoulian to the Upper Magdalenian, together with solutrean and azilian artifacts in Cap-Blanc. If the second and last phase of sculpture most probably dates from the Middle Magdalenian in both sites, these results raise the question of an older attribution (Badegoulian? Lower Magdalenian?) for the first carvings.
La reprise de l'étude de l'art pariétal sculpté de Reverdit et Cap-Blanc a montré dans chaque abri une succession de deux ensembles pariétaux illustrée par des retailles. Pour tenter de déterminer si ces décors consécutifs correspondent à des phases d'occupation distinctes sur le plan chronoculturel, nous avons réétudié une partie des industries lithiques et osseuses de Reverdit (collection Delage, IPH) et de Cap-Blanc (collection Lalanne, Musée d'Aquitaine). Onze dates 14C par AMS ont également été réalisées sur industrie osseuse. Les résultats montrent la présence, dans les deux sites, d'occupations allant du Badegoulien au Magdalénien supérieur, auxquelles s'ajoutent à Cap-Blanc des indices de Solutréen et d'Azilien. Si la seconde et dernière phase de décor se rapporte vraisemblablement au Magdalénien moyen dans les deux sites, ces résultats suggèrent la possibilité d'un âge plus ancien (Badegoulien, Magdalénien inférieur ?) pour les premiers ensembles sculptés, aujourd'hui à l'état vestigiel.
Fichier principal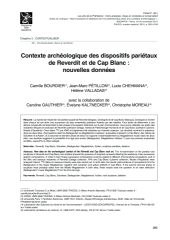 2014_Bourdier_et_al_b.pdf (1.91 Mo)
Télécharger le fichier
Origin : Explicit agreement for this submission