La fragmentation des paysages de l'élevage des rennes. Une étude de cas en Laponie suédoise
In Swedish Lapland, increasing global changes challenge territories dedicated to reindeer pastoralism and Saami herders. A spatial and statistical analysis, conducted on a regional scale, shows that Saami' communities face unequal fragmentation depending on (i)- their situation along the boreal – alpine ecotone, (ii)- the intensity of forest exploration, (iii)- the presence of traffic nodes and transport infrastructures, (iv)- proximity to the coastline, (v)- protected areas which weakly mitigate the landscape fragmentation. These trends might intensify in the future, questioning the adaptability and resilience of such extensive pastoralism to global change and its local effects.
En Laponie suédoise, le changement global soumet l'activité l'élevage de rennes semi-domestiques à des enjeux de territorialisation inédits. Une analyse cartographique et statistique menée à l'échelle régionale montre que les communautés saamies sont inégalement affectées par ce processus selon (i) leur répartition le long de l'écotone forêt boréale-toundra, (ii) leur taux d'exploitation forestière, (iii) la présence de nœuds routiers et d'infrastructures de transport, (iv) la proximité au littoral, (v) les aires protégées jouant un rôle secondaire pour limiter cette fragmentation. Ces tendances, dont l'intensification est attendue à l'avenir, questionnent le couple adaptabilité/résilience de ces systèmes pastoraux extensifs face au changement global.
Fichier principal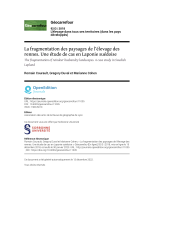 geocarrefour-11035.pdf (714.51 Ko)
Télécharger le fichier
Origin : Explicit agreement for this submission
Licence : ETALAB - Open licence