Perspectives de reconversion pour les moulins des Alpes Apuanes
Prospettive di riconversione per i mulini delle Alpi Apuane
This article presents a study made during the summer 2016 at the University of Florence. It took place within a larger research project entitled "Comparative study of inland areas for the territorial planning in the energy sector through pilot projects for local development", in which different areas were analysed, among them the Apuan Alps in northern Tuscany. The main goal of the research was to evaluate the opportunities for a more sustainable development of the energy sector in inland area. In the Apuan Alps, two main energy resources-biomass and water-have been identified. Our study mainly concerned the second one and, in particular , the chance to transform the surviving mills into pico-or micro-hydroelectric power stations. This could pave the way to a more 'territorialised' energy production and, at the same time, guarantee the protection of an architectural heritage which is an expression of local identity. Résumé.
Cet article relate une étude menée pendant l' été 2016 à l'Université de Florence, dans le cadre d'un plus ample projet de recherche intitulé « Etude comparative des aires internes pour l'aménagement énergétique territorial au sein des projets pilotes de développement local », dans lequel ont été étudiés et confrontés différents territoires italiens dont les Alpes Apuanes, au nord de la Toscane. L' objectif général de la recherche était d' évaluer les possibilités d'un développement plus soutenable des énergies dans les aires internes. Pour les Alpes Apuanes ont principalement été mises en évidence la ressource biomasse et la res-source hydraulique. Notre étude s' est intéressée principalement à la seconde et en particulier à la possibilité de transformer les moulins encore existants en pico-ou micro-centrales électriques. Ainsi, ce serait à la fois une production d' énergie plus territorialisée qui verrait le jour et la préservation d'un patrimoine architectural porteur de l'identité des lieux.
Questo articolo presenta uno studio condotto nell'estate 2016 presso l'Università di Firenze, nel quadro di un più ampio progetto di ricerca intitolato "Studio comparativo di aree interne per la pianificazione territoriale in campo energetico all'interno dei progetti pilota di sviluppo locale", il quale ha analizzato e confrontato diversi territori italiani fra cui le Alpi Apuane, nel nord della Toscana. Obiettivo generale della ricerca era di verificare lle possibilità di uno sviluppo energetico sostenibile nelle aree interne. Per le Apuane si sono individuate essenzialmente due risorse energetiche, ovvero biomasse ed acqua. Il nostro lavoro ha riguardato principalmente la seconda e, in particolare, la possibilità di trasformare i mulini ancora esistenti in pico- o micro-centrali idroelettriche. Questo potrebbe essere un modo per dar vita ad una produzione di energia maggiormente 'territorializzata' e, allo stesso tempo, per garantire la tutela di un patrimonio architettonico portatore dell'identità dei luoghi.
Fichier principal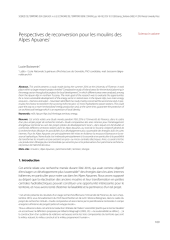 4_BOISSENIN_2018_reconversion-moulins-alpes-apuanes.pdf (319.16 Ko)
Télécharger le fichier
Origin : Publisher files allowed on an open archive