Portée de la négation : détection par apprentissage supervisé en français et portugais brésilien
Automatic detection of negated content is often a prerequisite in information extraction systems, especially in the biomedical domain. This paper proposes our contributions on negation scope detection in French and Brazilian Portuguese. We introduce two corpora mainly built with excerpts from clinical trial protocols, describing the inclusion criteria of patients. The corpora have been manually annotated for marking up the negation cues and their scope. Then, we propose a recurrent neural networks approach to acquire the scopes. MOTS-CLÉS : négation, français, portugais brésilien, apprentissage supervisé, réseau de neurones.
La détection automatique de la négation fait souvent partie des pré-requis dans les systèmes d'extraction d'information, notamment dans le domaine biomédical. Cet article présente nos contributions concernant la détection de la portée de la négation en français et portugais brésilien. Nous présentons d'une part deux corpus principalement constitués d'extraits de protocoles d'essais cliniques en français et portugais brésilien, dédiés aux critères d'inclusion de patients. Les marqueurs de négation et leurs portées y ont été annotés manuellement. Nous présentons d'autre part une approche par réseau de neurones récurrents pour extraire les portées.
Fichier principal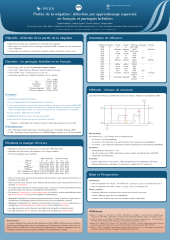 poster_taln2018.pdf (201.46 Ko)
Télécharger le fichier
Origin : Files produced by the author(s)