La carrière gallo-romaine de Saint-Boil (Saône-et-Loire)
The Gallo-Roman quarry of Saint-Boil was found in 1971. Each stage of extraction is readable in this site, from the first cuttings along a break, to the last ones being abandoned with in between the successive operations on horizontal layers. Particular techniques can also be studied, applied to specific uses in ornamental architecture such as columns. The originality lies in the fact that the blocks were not sent unfinished but were completed or almost ready to be dressed on the building site. It can be suggested that quarrymen and stone-workers worked close together and even that there was no distinction between them, the same man could either be a quarryman or a hewer. The chief period of occupation dates from the 1st century AD and this quarry shows various activities such as a forge, a workshop for sculpture settled in the 2nd century on the extracting sites being abandoned and two areas of extraction for trapezoidal sarcophagi, which lasted a short time during the 7th century. Inscriptions, working drawings, sketches and accounts traced on the quarry faces, show the great care taken for the products, their high quality and the different destination of the stone blocks being prepared.
La carrière gallo-romaine de Saint-Boil a été découverte en 1971. Toutes les étapes d'extraction sont reconnaissables sur ce site, depuis les premiers enlèvements, guidés par une faille, jusqu'aux derniers, abandonnés en cours de travail, avec entre ces deux extrêmes les différents travaux d'exploitation en nappes horizontales. On peut aussi y étudier les techniques originales employées pour des éléments spécifiques d'architecture, tels que les colonnes. La particularité qui se fait jour à Saint-Boil est que les blocs, une fois extraits, n 'étaient pas expédiés bruts de carrière mais terminés, ou peu s'en faut, prêts à être posés sur le chantier de construction. Leur niveau de finition et certains de leurs aménagements laissent supposer que carriers et tailleurs de pierre travaillaient en étroite collaboration, voire même qu'aucune distinction n 'existait entre ces deux corps de métier, le même homme pouvait être indifféremment carrier et tailleur de pierre. La carrière de Saint-Boil, dont la grande période d'exploitation est datable du Ier s., est un site complet puisqu'on y rencontre une forge, un atelier de sculpture établi au IIe s. sur la zone de taille délaissée et deux points d'extraction de sarcophages trapézoïdaux qui ont fonctionné durant une courte période au VIIe s. Les inscriptions, épures, comptes et schémas tracés sur les fronts de taille sont des témoignages précieux sur le soin de la préparation et la qualité des éléments produits ou sur la destination des blocs travaillés ici.
Fichier principal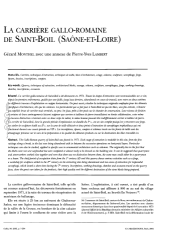 Gallia_2002_89-120_MONTHEL.pdf (15.83 Mo)
Télécharger le fichier
Origin : Publisher files allowed on an open archive