Premiers résultats de l'étude anthropologique des restes humains de la grotte de M'Tsogatin 1 (Région d'Oulmès, Maroc)
Within the framework of the Mission Archéologique El Harhoura-Témara, M'Tsogatin 1 cave was discovered during a field survey with two aims : 1) the litologic study of mineral resources used in the prehistoric sites from the northwestern coastal Meseta and the research of human settlement evidences. Three test pits were realized in M'Tsogatin 1 cave. The L14 test pit delivered lithic industry, fauna and 230 human remains. Three stratigraphical levels were distinghished : the level 1 (dated by 14C of 4943-4795 cal BC on human collagen) and the level 2 contain neolithic artifacts, but seem to be heavily perturbed. The level 3 was attributed to the Upper Palaeolithic according to the lithic industry. Within the same level, despite the highly fragmentation of the human bones, the biometric study demonstrates that they fit into the variability of Iberomaurusian individuals. Whereas the human remains of the levels 1 and 2 do not fit into the variability of the neolithic human bones of the Maghreb. Cutmaks and burned bones observed of the level 3 are comparable with some of the funeral behaviors described in Taforalt and Afalou-Bou-Rhummel during the Iberomaurusian. For the first time in Morocco, the evulsion of the lower central incisors was highlighted on a mandible of the level 3. This echoes iberomaurusian and capsian behaviors known in Algeria and in Tunisia.
La grotte de M'Tsogatin1 fut découverte lors d'une campagne de prospections dans le Maroc central ayant pour double objectif l'étude lithologique des ressources minérales utilisées sur les sites préhistoriques de la Meseta côtière nordoccidentale et la recherche d'occupations humaines préhistoriques. Un sondage d'une superficie d'1 m² et d'une profondeur de 70 cm, réalisé dans la partie centrale de la grotte, a livré de l'industrie lithique, des restes de faune et une importante série de 230 restes humains. Trois ensembles stratigraphiques ont été distingués : la couche 1 (datée par 14C sur collagène humain de 4943–4795 cal BC) et la couche 2 semblent toutes deux fortement remaniées mais contiennent des éléments néolithiques, et la couche 3 qui a été attribuée selon l'industrie lithique au Paléolithique supérieur. Au sein de celle-ci, malgré l'importante fragmentation des restes humains, l'étude ostéométrique démontre que ces derniers s'intègrent dans la variabilité des Ibéromaurusiens. En revanche, les restes humains des couches supérieures ne rentrent pas dans la variabilité des Néolithiques du Maghreb. Les stries de découpe et les traces de chauffe observées sur certains os humains de la couche 3 évoquent certains des traitements funéraires décrits à Taforalt et à Afalou-Bou-Rhummel pour l'Ibéromaurusien. Pour la première fois au Maroc, la pratique de l'avulsion des incisives centrales inférieures a été mise en évidence sur une mandibule de la couche 3 de M'Tsogatin 1 et rappelle certains comportements ibéromaurusiens et capsiens d'Algérie et de Tunisie.
Fichier principal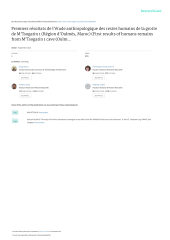 406-JMES-Sens-1.pdf (1.58 Mo)
Télécharger le fichier
Origin : Explicit agreement for this submission