Les vanneries gallo-romaines du Petit-Creusot à Chalon-sur-Saône (Saône-et-Loire)
A rescue excavation on the bank of a fossil meander of the Saône river, south of Chalon-sur-Saône in the locality of Petit-Creusot, revealed a fish trap and a basket among a large amount of artifacts, including numerous textiles. The materials employed were identified as willow, plus clematis and dogwood for the basket. Thanks to the good state of preservation of the fish trap, with the exception of the junction of the body and neck, it has been possible to determine weaving processes which were confirmed through experimentation. These data, coupled with information from written sources and iconographic evidence, permit a better understanding of the utilization and conditions of production of these objects. These discoveries are a major contribution to our knowledge of basketry in Roman Gaul which until now left little trace, and provide new information concerning the river fades in this area.
Une fouille de sauvetage dans un méandre fossile de la Saône, au sud de Chalon-sur-Saône, au lieu-dit Le Petit-Creusot, a permis de mettre au jour parmi un abondant mobilier - dont de nombreux textiles - une nasse et une corbeille datables du IIIe s. Les matériaux employés ont été identifiés : osier, mais aussi clématite et cornouiller pour la corbeille. Le bon état de la nasse, intégralement conservée à l'exception de la jointure du corps et du goulet, a permis d'en déterminer le mode de construction, confirmé par l'archéologie expérimentale. Ces données, jointes à l'apport des textes et de l'iconographie, permettent d'éclairer usage et conditions de production de ces pièces. Ces découvertes apportent une contribution capitale à notre connaissance de la vannerie en Gaule romaine, jusqu'à maintenant pauvre en vestiges, et éclairent d'un jour nouveau le faciès de la rivière dans cette zone.
Fichier principal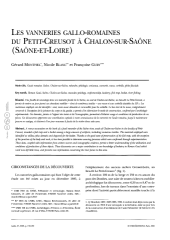 Gallia_2000_159-180_MONTHEL.pdf (4.61 Mo)
Télécharger le fichier
Origin : Publisher files allowed on an open archive