Reconnaissance au travail VS mépris et déni : reconnaître l'existence et l'évolution positive des salariés
Recognition is a complex and polysemic concept. Misunderstandings, both at a theoretical level and in the implementation of the concept, are due to the fact that recognition is not just opposed to a single non-recognition type. The research focuses on a case study in a service company in the industrial machinery sector. It synthesize the lexical analysis of 2,179 verbatim from 2 diagnoses representing 195 interviews as well as other observations. The article aims to identify two types of non-recognition: contempt and denial. It illustrates how these types of non-recognition are depend on the recei-ver's perception of these acts and on the interpretation of the intentions of the transmitter of the acts (or their absence). This study conceptualizes two different forms of recognition: the recognition of the existence and the recognition of the positive evolution , which allow to better understand the human expectations that impact directly the social performance, particularly the mental health of people, and indirectly impact the economic performance as a result of mental and social degradations linked to relations between people.
La reconnaissance est un concept complexe et polysémique. Des incompréhensions, tant au niveau théorique que dans l'application du concept, résident dans le fait que la reconnaissance ne s'oppose pas simplement à un type unique de non-reconnaissance. La recherche porte sur une étude de cas dans une entreprise de service du secteur de l'outillage industriel. Elle fait, en particulier, la synthèse de l'analyse lexicale de 2 179 ver-batims issus de 2 diagnostics représentant 195 entretiens ainsi que d'autres dispositifs d'observations. L'article vise à identifier deux types de non-reconnaissance : le mépris et le déni. Il illustre en quoi ces types de non-reconnaissance se rattachent à la perception du récepteur de ces actes et à l'interprétation qu'il donne aux intentions de l'émetteur des actes (ou de leur absence). Il amène à conceptualiser, en creux, deux formes de reconnaissance différentes : la reconnaissance de l'existence et la reconnaissance de l'évolution positive, qui permettent de mieux comprendre les attentes humaines ayant des impacts directs sur le champ de la performance sociale, notamment la santé men-tale des individus, et indirects sur la performance économique, conséquence des dégradations mentales et sociales liées aux relations entre individus.
Fichier principal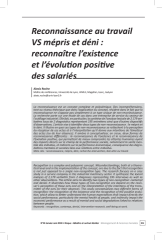 Reconnaissance au travail.pdf (1.05 Mo)
Télécharger le fichier
Origin : Explicit agreement for this submission