Création d'emplois ou création de connaissances, quelle mesure de performance pour l'incubateur ? L'influence des caractéristiques des projets sélectionnés dans le processus d'incubation
Our research focuses on the influence of the selected projects' characteristics on coaching and incubator performance. Incubators need to choose the candidates that best meet their objectives and, at the same time, they have to select companies whose potential has not yet been developed. We studied 177 companies hosted in French incubators. Our findings emphasize the difficulty for economic performance variables, such as job creation, to account for the action of the incubator in the long term. Indeed, the incubator may be tempted to select companies that allow it to meet short term objectives thereby reducing its potential added value.
Notre recherche s'intéresse à l'influence des caractéristiques des projets sélectionnés sur l'accompagnement et la performance des incubateurs. Les structures d'incubation doivent, d'un côté, choisir les meilleurs candidats par rapport à leur objectif, et de l'autre, faire attention à la sélection des entreprises dont le potentiel est encore à développer. Nos analyses, basées sur l'étude de 177 entreprises hébergées dans des incubateurs français, soulignent la difficulté que renferment les variables de performance telles que la création d'emploi pour représenter l'action de l'incubateur sur le long terme. L'incubateur peut être tenté de sélectionner des entreprises qui lui permettront de remplir des objectifs sur le court terme, mais diminueront son potentiel de valeur ajoutée.
Fichier principal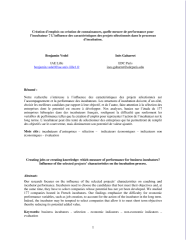 Vedel_Gabarret_version HAL.pdf (447.98 Ko)
Télécharger le fichier
Origin : Files produced by the author(s)