Actionnaires, investisseurs ou entrepreneurs, les propriétaires représentent une partie prenante méconnue
Deregulation linked to globalization, the real lack of corporate governance and impunity from tax havens create perverse effects. Capital or property owners, shareholders, investors or enterprisers in general, are misidentified stakeholders. Pendulum swing ? Trend ? All, however, are not equal taxation. In France, repeated infringements of property rights, considered as fundamental freedom, have exacerbated the housing crisis and caused a flight of capital. Legal risks are often unknown : nevertheless, they generate economic and political consequences.
La dérégulation liée à la mondialisation, l'absence réelle de corporate governance et l'impunité face aux paradis fiscaux créent des effets pervers. Les propriétaires de capitaux ou de biens, actionnaires, investisseurs ou entrepreneurs de manière générale, sont une partie prenante mal identifiée. Mouvement de balancier? Tendance lourde? Tous, pour autant, ne sont pas à égalité devant l'impôt. En France, les atteintes répétées portées au droit de propriété, quoique liberté fondamentale, ont aggravé la crise du logement et provoqué une fuite des capitaux. Les risques juridiques sont souvent méconnus : ils engendrent pourtant des conséquences économiques et politiques importantes.
Fichier principal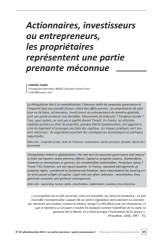 Actionnaires, investisseurs.pdf (200.7 Ko)
Télécharger le fichier
Origin : Explicit agreement for this submission