La diversité des abeilles parisiennes
Despite the forever increasing urbanization, cities often shelter a significant biodiversity. As many other taxa, wild bees may find refuge in urban areas because of relative favorable conditions compared to intensive agricultural environments. In this study, we compiled our joint work to extend the list of Parisian bees. Over 4 years of monitoring (2011, 2014, 2015, 2016), we recorded 87 bee species in intra-muros Paris. In 2016 we added net captures to our sampling procedures with colored pan traps, which provided 11 additional species. The assemblage now represents 8.8 % of the French fauna of Apoïdae. However, this assemblage is mostly dominated by Halictidae and includes only few kleptoparasitic species highlighting an impoverished community.
Malgré les perturbations dues à l'urbanisation grandissante, les villes abritent une biodiversité non négligeable. Comme beaucoup d'autres taxons, les abeilles sauvages peuvent être relativement abondantes dans les zones urbaines du fait de certaines conditions favorables par rapport aux milieux agricoles (absence de pesticides, îlot de chaleur urbain, floraison toute l'année). Dans cette étude, nous compilons nos travaux conjoints afin d'enrichir la liste des espèces d'abeilles parisiennes. Au total, le suivi de 4 années (2011 puis 2014, 2015, 2016) a permis de recenser 87 espèces d'abeilles à Paris intra-muros. L'ajout en 2016 de la méthode de capture avec des filets à papillon en plus de la méthode passive avec coupelles colorées a permis de capturer 11 espèces supplémentaires. L'assemblage, qui représente à ce jour 8,8 % de la diversité spécifique des abeilles sauvages de France métropolitaine, est cependant dominé par les Halictidae et ne compte que quelques espèces cleptoparasites, témoignant d'une communauté appauvrie.
Fichier principal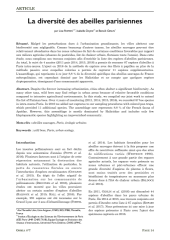 Article Osmia Ropars et al. 2018.pdf (1.06 Mo)
Télécharger le fichier
Origin : Publisher files allowed on an open archive