Public action for local food, local authorities competencies for local food production, Processing and consumption
L'action publique en matière d'alimentation locale. Les compétences accordées par la loi et les règlements aux collectivités locales (régions, départements, communes) dans le domaine de la production, la transformation et la consommation d'aliments locaux.
The aim of this work is to identify the direct or indirect legal competencies of French local authorities (regions, departments, municipalities) in matter of production, processing and consumption of local foods. It is a simplified but complete tool giving an overview of the different legal fields of action for French local authorities, of the overlapping of the competencies or on the contrary their exclusivity (local authorities and State ).This guide has been conceived as an evolving tool according to legal changes and new practices of the actors.The ultimate goal is to develop an online version of this work in order to provides a dynamic interactivity with users.This work was carried out as part of the research project FRUGAL "Urban forms and food governance" (http://projetfrugal.fr/), PSDR 4 (https://www.psdr.fr/).
Ce travail a pour objectif d'identifier les compétences légales directes ou indirectes des collectivités territoriales françaises (régions, départements, communes) en matière de production, de transformation et de consommation d'aliments locaux . Il s'agit d'offrir un outil simplifié mais le plus complet possible permettant de saisir rapidement les différents champs d'action légaux à la disposition des collectivités locales et d'observer la superposition des compétences ou au contraire leur exclusivité (collectivités territoriales et Etat).Ce guide a été envisagé de manière à ce qu'il puisse évoluer dans le temps en fonction des modifications du droit et de la confrontation des compétences légales avec les pratiques des acteurs.L'objectif final est de développer une version électronique en ligne de ce livret proposant une forme d'interactivité dynamique avec les utilisateurs.Ce travail a été effectué dans le cadre du projet de recherche FRUGAL « Formes urbaines et gouvernance alimentaire » (http://projetfrugal.fr/), PSDR 4 (https://www.psdr.fr/).
Fichier principal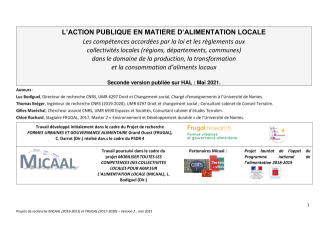 LIVRET_COMPETENCES_10052021 (1).pdf (5.92 Mo)
Télécharger le fichier
Origin : Files produced by the author(s)