Pemodelan Indikator Pencemar Biological Oxygen Demand di Kali Surabaya Menggunakan Pendekatan Spatial-Temporal Weighted Regression
Kali Surabaya is a river in Surabaya that has a high level of water pollution whereas approximately 96 percent of standard water Regional Water Company PDAM Surabaya was supplied by Kali Surabaya. To determine the level of water pollution it is needed to know the factors that cause changes in levels of BOD. Some research on water pollution in Surabaya so far are only able to accommodate the effect of spatial heterogeneity while BLH Surabaya began to feel the effects of spatial-temporal heterogeneity in the case of BOD levels in Kali Surabaya. This study uses Spatial-Temporal Weighted Regression STWR because this method is able to accommodate the spatiotemporal heterogeneity. The results showed that the method STWR provide better performance than GWR and global regression. In addition, it is known that the temporal effects are more dominant than the spatial effects since the parameters coefficients and the number of parameters over time is more varied than the parameters coefficients and the number of parameters among the locations. Factors affecting the level of BOD in Kali Surabaya are fluoride phosphate nitrate NH3 and Nitrite.
Kali Surabaya merupakan sungai di Surabaya yang memiliki tingkat pencemaran sungai yang cukup memprihatinkan padahal sekitar 96 persen air baku Perusahaan Daerah Air Minum PDAM Kota Surabaya dipasok dari Kali Surabaya. Untuk mengetahui tingkat pencemaran air perlu untuk mengetahui faktor-faktor yang menyebabkan perubahan kadar BOD. Beberapa penelitian mengenai pencemaran air Kali Surabaya selama ini hanya mampu mengakomodasi sebatas pada efek heterogen spasial padahal BLH Surabaya mulai merasakan adanya efek spasial-temporal pada kasus BOD Kali Surabaya. Penelitian ini menggunakan metode Spatial Temporal Weighted Regression STWR karena metode ini mampu mengakomodasi heterogenitas spasial-temporal. Hasil penelitian menunjukkan bahwa dengan metode STWR memberikan kinerja yang lebih baik daripada metode GWR dan regresi global. Selain itu diketahui bahwa efek heterogen temporal lebih mendominasi daripada efek spasial karena koefisien parameter dan jumlah parameter antar waktu lebih beragam daripada koefisien parameter dan jumlah parameter antar lokasi. Faktor-faktor yang berpengaruh terhadap BOD Kali Surabaya adalah Flourida Fosfat Nitrat NH3 dan Nitrit.
Fichier principal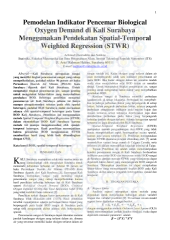 Pemodelan indikator.pdf (396.03 Ko)
Télécharger le fichier
Origin : Files produced by the author(s)