Découvertes funéraires gallo-romaines dans le faubourg Saint-Gilles de Langres (Haute-Marne)
Bei einer archäologischen Voruntersuchung wurden in einem Gräberbereich nördlich der antiken Stadt zwei Bestattungen in Särgen und zwei Grabstelen entdeckt. Trotz einer übereinstimmenden Datierung Ende des 1. bis Anfang 2. Jahrhunderts und einer bestechenden Entsprechung von Alter und Geschlecht zwischen beiden Quellen, besteht keine direkte materielle Verbindung, die einen ursprünglichen Zusammenhang bestätigen würde. Wie dem auch sei, diese Elemente zeugen von der Vielfalt der Grabbräuche im 1. und 2. Jahrhundert, wo Brandbestattungen und Körpergräber (bei denen der Kopf nach Osten gerichtet ist) nebeneinander zu bestehen scheinen, und wo manche begrabene Individuen wohl in verwesendem Zustand umgebettet wurden. Dies ist der Fall in Grab Nr. 2. Aus den Grabungsergebnissen ergibt sich auch eine genauere Topografi e der Nekropole. Die Voruntersuchungen scheinen deren südliche Grenze, am Fuß der Stadt erreicht zu haben.
Two coffin burials with steles were discovered during a rescue excavation in a burial zone to the North of the ancient roman city. Even though they have both been dated to the end of the 1st and the beginning of the 2nd century AD and that there is a troubling analogy of age and sex, no direct link has been found between the two burials. Th is new data provides an insight into the diversity of funerary practices during this period where cremations and inhumations (head looking to the East) coexist and where bodies can be manipulated during their decomposition. Th is is the case with burial n°2. Th is evaluation has also shed light on the cemetery's topography at the foot of the town's slopes, having touched the southern extremity of the funerary zone.
Une opération archéologique préventive a permis de découvrir, dans une zone funéraire du nord de la ville antique, deux inhumations en cercueil et deux stèles funéraires. Malgré une datation concordante de la fin du Ier siècle au début du IIe, et une troublante analogie des âges et des sexes entre les deux sources, aucun lien matériel direct ne permet de certifier un lien originel. Quoi qu'il en soit, ces éléments témoignent de la diversité des pratiques funéraires du Ier au IIe siècle, où les sépultures à incinération et à inhumation (dont la tête est dirigée vers l'est) semblent coexister, et où certains individus inhumés peuvent être manipulés au cours de leur décomposition. Le cas se présente dans la sépulture n° 2. Ces éléments précisent aussi la topographie de la nécropole, dont le diagnostic semble avoir touché l'extrémité sud, au pied des pentes de la ville.
Fichier principal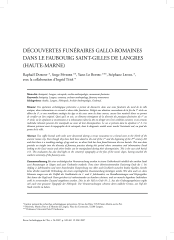 Durost_alii_2007.pdf (10.28 Mo)
Télécharger le fichier
Origin : Publisher files allowed on an open archive