Better Teachers, Better Results? Evidence from rural Pakistan
Most of the existing literature examining the determinants of school quality in developing countries has failed to take into account the crucial role of teachers. This study assesses how teachers contribute to knowledge acquisition in Punjab, Pakistan. The baseline specification used is a gain model with three different levels of fixed effects. We find that teacher quality is strongly correlated with student achievement. Increasing teachers' wages could improve schooling quality, as could the recruitment of local and contract teachers. Our analysis also underlines the importance of reforming training programs and rethinking wage policies.
La plupart des études existantes examinant les déterminants de la qualité des écoles dans les pays en développement n'ont pas pris en compte le rôle crucial des enseignants. Cette étude évalue la manière dont les enseignants contribuent à l'acquisition des connaissances au Punjab, au Pakistan. La spécification de base utilisée est un modèle de gain avec trois niveaux différents d'effets fixes. Nous constatons que la qualité des enseignants est fortement corrélée aux résultats des élèves. L'augmentation des salaires des enseignants pourrait améliorer la qualité de l'enseignement, tout comme le recrutement d'enseignants locaux et contractuels. Notre analyse souligne également l'importance de réformer les programmes de formation et de repenser les politiques salariales.
Fichier principal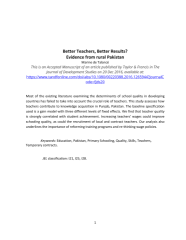 AcceptedManuscript_JDS.pdf (594.32 Ko)
Télécharger le fichier
Origin : Files produced by the author(s)