Potentiel scientifique et technique d'un laboratoire : Favoriser l'innovation, protéger les savoirs : un équilibre délicat
The scientific and technical potential of a research laboratory gives a strategic character to the protection of its information system. The security breaches can easily affect scientific or technological data as well as their scientific, technical or human potential. The laboratory often lives in a complex environment by the diversity of its guardian ship and the diversification of its resources, while being confronted with an increasing scientific competition. In front of incurred risks, and in its functional and organizational context, it is advisable to identify what must be protected, to quantify the corresponding stake, to formulate objectives of safety and to implement the parades adapted exactly reserved level of safety. Such an action plan leads to rules. So that they are accepted, they do not have to hamper research, competitiveness, exchanges and national or international cooperation, patent production, publications and participation to congresses, and so on. It is an appropriate balance has to be found and to be kept.
Le potentiel scientifique et technique d'un laboratoire de recherche confère un caractère stratégique à la protection de son système d'information. Les atteintes peuvent tout aussi bien toucher ses données scientifiques ou technologiques que ses outils ou ses moyens scientifiques, techniques ou humains. Le laboratoire vit souvent dans un environnement complexe par la diversité de ses tutelles et la diversification de ses ressources, tout en étant confronté à une compétition scientifique croissante. Face aux risques encourus, il convient d'identifier ce qui doit être protégé, de quantifier l'enjeu correspondant, de formuler des objectifs de sécurité et de mettre en oeuvre les parades adaptées au niveau de sécurité retenu. Un tel plan d'actions conduit à des règles. Pour qu'elles soient acceptées, elles ne doivent pas entraver la recherche, la compétitivité, les échanges et les coopérations nationales et internationales, la diffusion à travers les brevets, les publications et les congrès, etc. C'est un équilibre délicat à trouver et à maintenir.
Fichier principal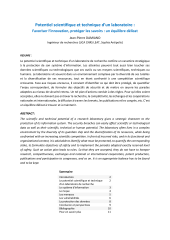 damiano_hal_final_dec_2017.pdf (925.92 Ko)
Télécharger le fichier
Origin : Files produced by the author(s)