Composante carbone, rapprochement diesel-essence, réforme de la TICPE : Transition énergétique ou fiscale ?
The Finance Bill for 2014 (PLF 2014) introduced a carbon component in the TICPE –also called climate-energy contribution or carbon tax. Thereafter, the parliamentarians also played specifically on fuel taxes (game on the diesel / gasoline spreads). After several failures of the taxation of fossil fuels reform (2000, 2009), analysis of the process leading to the vote of these measures provides the opportunity to test the hypothesis that public policies vary by more than their instruments their goals. It should allow us to highlight the public policy choices thus made and trace the changes made. To do this, we examined the creation and operation of an environmental taxation Committee (CFE) (December 2012), consultation device between "stakeholders" that made visible the conditions for the emergence of this transformation. The analysis is based on an important written material, both from CFE and Parliament, supplemented by semi-directive interviews (conducted mainly between April and October 2014). To (try to) clarify all the characteristics of this process, we organized this report in five chapters. The first two account for reform TICPE in ideas and issues (put a price on carbon, secure a transfer of taxation to resource consumption), in choice of instrument (existing) –question of what ?The third chapter describes the descent (environmental) and composition of the CFE –question of who ? The last two chapters return to the conditions of progress of various interaction devices (CFE, legislative) –question of how ? The general conclusion returns to this set to question the qualification of transformations involved –energy or fiscal transition ? Indeed, the choice of reforming the TICPE structure has several characteristics indicative of political sense. One related to a segmentation of public action : fossil fuels are concerned. Another bound to a taxation of consumption : the indirect tax that is mobilized.
Le projet de loi de finances pour 2014 (PLF 2014) a introduit une composante carbone dans la TICPE – appelée aussi contribution climat énergie ou encore taxe carbone. Par la suite, les parlementaires ont aussi joué plus spécifiquement sur la fiscalité des carburants (jeu sur les écarts gazole/essence). Après plusieurs échecs de réforme de la fiscalité des énergies fossiles (2000, 2009), l'analyse du processus ayant conduit au vote de ces mesures donne l'occasion de tester l'hypothèse selon laquelle les politiques publiques changent davantage par leurs instruments que par leurs objectifs. Elle doit nous permettre de mettre en lumière le choix de politique publique ainsi réalisé et de tracer les changements opérés. Pour ce faire, nous nous sommes penchée sur la création et le fonctionnement d'un Comité pour la fiscalité écologique (CFE) (décembre 2012), dispositif de concertation entre « parties prenantes », qui a rendu visibles les conditions d'émergence de cette transformation. L'analyse s'appuie sur un important matériau écrit, du CFE comme du Parlement, complété par des entretiens semi-directifs (réalisés principalement entre avril et octobre 2014). Pour (tenter de) clarifier l'ensemble des caractéristiques de ce processus, nous avons organisé ce rapport en cinq chapitres. Les deux premiers rendent compte de la réforme de la TICPE, en idées et enjeux (donner un prix au carbone, opérer un basculement de la fiscalité vers la consommation des ressources), en choix de l'instrument (préexistant) – question du quoi ? Le troisième chapitre décrit la filiation (environnementale) et la composition (parties prenantes) du CFE – question du qui ? Les deux derniers chapitres reviennent sur les conditions de déroulement des différents dispositifs d'interaction (CFE, législatifs) – question du comment ? La conclusion générale revient sur cet ensemble pour interroger la qualification des transformations engagées – transition énergétique ou fiscale ? En effet, le choix de réformer la structure de la TICPE comporte plusieurs caractéristiques révélatrices de sens politique. L'un lié à une sectorisation de l'action publique : ce sont les produits énergétiques fossiles qui sont concernés. Un autre lié à une taxation de la consommation : c'est la fiscalité indirecte qui est mobilisée.
Fichier principal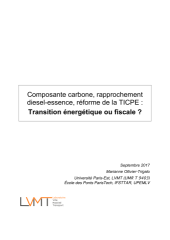 Trans-Energ-Fisc-Ollivier-Trigalo-2017.pdf (2.96 Mo)
Télécharger le fichier
Origin : Files produced by the author(s)