Démonstration de MarkPad : Augmentation du pavé tactile pour la sélection de commandes
MarkPad is a technique taking advantage of the touchpad that allows creating a large number of size-dependent gestural shortcuts. It relies on the idea of using visual or tactile marks on the touchpad or a combination of them. Gestures start from a mark on the border and end on another mark anywhere. MarkPad does not conï¿¿ict with standard interactions and provides a novice mode that acts as a rehearsal of the expert mode. We present a working prototype that allows the speciï¿¿cation of spatially organized shortcuts as desired by the user. Mappings of actions with gestures lead to the creation of gestural menus and semantically related groups.
MarkPad est une technique prenant avantage du touchpad pour permettre la création d'un grand nombre de gestes dépendants de leur taille. Elle se base sur l'idée d'utiliser des marques visuelles ou visuo-tactiles sur le touchpad ou une combinaison des deux. Les gestes démarrent d'une marque sur le bord et nissent sur une autre n'importe où. MarkPad ne rentre pas en con it avec le pointage et propose un mode novice qui agit comme un mode d'entraînement pour le mode expert. Nous présentons un prototype fonctionnel qui permet de spéci er des raccourcis spatialement organisés selon le souhait de l'utilisateur. Des associations entre des actions et des gestes mènent à la création de menus gestuels, permettant de les regrouper sémantiquement.
Fichier principal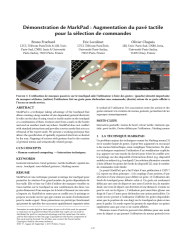 markpad.pdf (2.81 Mo)
Télécharger le fichier
Origin : Files produced by the author(s)