Jeux d'identités numériquement interfacées
Computer assisted communication requires to the user to create a representation of him.herself, which enable the exchange with the interlocutor to be established. That creation of another "Myself" on the network might made the user to experiment couples of other identities. This process of "being someone else" allows the user to realize its material existence in the relation with the other one and even to himself.
La communication assistée par ordinateur nécessite de créer une représentation de soi pour que s'établisse un échange avec un interlocuteur. Cette création d'un autre soi-même sur le réseau peut pousser l'utilisateur à expéri-menter différentes identités ; ce processus provoque une prise de conscience existentielle de sa relation à l'autre, et à lui-même.
Fichier principal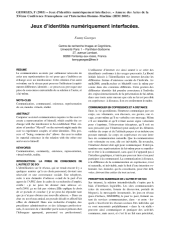 actes-ihm2003.pdf (305.72 Ko)
Télécharger le fichier
Origin : Files produced by the author(s)