Mémoire humaine et expérience de soi par le Web
Computer Mediated Communication (CMC) devices have an impact on the self-representation. A reading of this process by referring on the Lakoff & Johnson's conceptual metaphor is presented. Interaction via user profiles structure back the self-represen¬tation. In the first part, we introduce the notion of conceptual metaphor applied to the field of hypermedia and highlight the structural similarities of the digital representation of self and self-representation in thought constructed in the interpretation process. In the second part, the interactive link between these three levels is examined: it strengthening the contiguity between the different levels of abstraction of the concep¬tual metaphor. The third part is the presentation of the metaphor of the profile.
Les dispositifs de Communication Médiée par Ordinateur (CMO) ont un impact sur l'image de soi en pensée. Cet article propose une lecture de ce processus en s'ap-puyant sur la métaphore conceptuelle de Lakoff et Johnson : l'interaction via les profils utilisateur structure en retour l'image de soi en pensée.Dans la première partie, nous présenterons la notion de métaphore conceptuelle appliquée au domaine de l'hyper-média et mettrons en évidence les analogies structurelles de la représentation de soi numérique et de la représentation de soi en pensée construites dans le processus d'interprétation. Dans la seconde partie est examinée la liaison interactive entre ces trois niveaux, qui intervient en renforcement des liens de contiguïté entre les diffé-rents niveaux d'abstraction de la métaphore conceptuelle. Dans la troisième partie est présentée la métaphore du profil. Mots-clés : identité, communication médiée par ordinateur, données personnelles, mémoire.
Fichier principal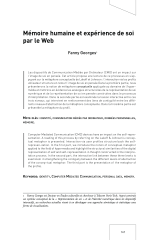 2011 Memoire humaine et experience de soi MEI 32 12.pdf (429.25 Ko)
Télécharger le fichier
Origin : Publisher files allowed on an open archive