Digital eternities.
Éternités numériques.
ENEID Digital eternities. A gender perspective on post mortem digital identities and new memorial uses of the web. As a privileged site for individual identity building, the web and its uses have reorganized social relationships. The lasting of digital data, after the death of its users, raise nowadays several questions. What become of the identity data of web users after their death? Do they care about them when they are still alive? How do relatives deal with these data? How do major actors of the web, such as Facebook and Google, manage them? As any other digital and funeral practices, those post mortem digital practices are gendered. This project wants to shed a light on the gender dimension of these practices. How does the gender of the dead person and of those who pay tribute to him/her structure the memorial uses and the construction of post mortem identities? Such questions seem crucial when taking into account the multiplication of digital programs dedicated to memorial practices and the dramatic importance of social networks in relation to the aging of web users. For a few years, international research has explored the social issues raised by profiles of dead users, as well as the changes in the morning practices on the web, but has paid little attention to gender issues. In France, only a few research projects have been conducted on the thematic. Even more, if works articulate digital practices and death or question the gender dimension of mourning, none develop a specific gender perspective on digital practices related to death. The study of death enlightens social structure and raises individual and collective issues such as the historical conceptions of the body and self-representation. This research project aims at analysing the memorial uses of the web and the construction of digital post mortem identities, by using a gender perspective and by unravelling their social, economic, legal and symbolic implications. To deal with such interdisciplinary questions, this project relies on a theoretical framework made of gender studies, sociology, philosophy and computer sciences. It pays a particular attention to the development of innovative methods in visualisation. The implementation of this project consists in 6 different tasks. We expect a qualitative and quantitative analysis of memorial uses on the web in France (Task 1), an analysis of the transmedia circulation of tributes to celebrities (Task 2), and a semiotic analysis of the identity traces left on web memorials and of the post mortem identities they build (Task 3). These three tasks will be conducted all together during the two first years of the project. The results will be exploited during the third year in a multidisciplinary synthesis. The objective of this fourth task (Task 4) is to address the re-composition of gender and digital identities in the memorial uses of the web in France, in comparison with other geographic areas (China, USA). During the whole project (3 years), valorisation (Task 5) and coordination (Task 6) are conducted independently. The consortium assembles 2 partners. Partner 1 is the research centre CIM, at Paris 3 University, specialised in Media Studies and digital practices (Team Media, Culture and Digital Practices). The CIM is closely related to members from Labsic Center (Paris 13), specialised in uses and innovation. The two centres have developed collaboration through their commune inscription in the PRES Sorbonne Paris-Cité. Partner 2 is COSTECH, at the Technological University of Compiègne. This interdisciplinary research centre focuses on the role of technologies in society. The consortium has a common research project on social, political, economical, symbolic and philosophical issues related to technologies of information and communication.
ENEID Éternités numériques. Les identités numériques post mortem et les usages mémoriaux innovants du web au prisme du genre. L'usage du web comme cadre de présentation de l'identité des individus a réorganisé leur socialisation. La persistance des données numériques, après le décès des usagers, soulève aujourd'hui un certain nombre de questions. Que deviennent les données identitaires des usagers après leur décès ? S'en préoccupent-ils de leur vivant ? Comment sont-elles gérées par les proches ? Comment les acteurs du web, tels que Google ou Facebook, y font-ils face ? Compte tenu de la dimension genrée des pratiques numériques et des pratiques liées à la mort, nous souhaitons interroger la manière dont le genre structure ces phénomènes. Comment le genre du défunt et de ceux qui lui rendent hommage intervient dans les usages mémoriaux et dans la construction des identités post mortem ? La multiplication des applications numériques dédiées à la mémoire ainsi que l'usage massif des réseaux socionumériques – corrélés au vieillissement de la population utilisatrice du web –, laissent à penser que ces questions prendront une importance croissante ces prochaines années. Les problématiques sociétales soulevées par les profils des utilisateurs décédés, de même que les mutations des pratiques de deuil sur internet et les usages mémoriaux du web, retiennent de plus en plus l'attention de la recherche internationale ces dernières années ; la question du genre étant néanmoins peu explorée. En France, peu de travaux portent sur ce sujet. Plus encore, si les travaux croisent la question des pratiques numériques et de la mort ou abordent la dimension genrée du deuil, aucun n'articule les problématiques des pratiques numériques liées à la fois à question de la mort et du genre. L'étude de la mort éclaire les structures sociales et concerne les questions d'identité individuelle et collective tout comme l'histoire des corps et des représentations de soi. Cette recherche propose donc d'analyser les usages mémoriaux du web et la construction des identités numériques post mortem au prisme du genre et d'en dégager les enjeux sociaux, économiques, juridiques et symboliques. Ces questions soulevant des problématiques interdisciplinaires, nous prenons là appui sur la sémiotique, les études du genre, la sociologie, la philosophie et l'informatique. Une attention particulière est accordée au développement de méthodes innovantes de visualisation. La mise en œuvre du projet est répartie en six tâches. Nous proposons de conduire une enquête quantitative et qualitative sur les usages mémoriaux du web en France (Tâche T1), une analyse de la circulation médiatique des hommages aux célébrités (T2), et une analyse sémiotique des traces identitaires dans les sites mémoriaux et des identités post mortem qui s'y construisent (T3). Ces trois tâches, conduites conjointement les deux premières années, seront capitalisées la troisième année en une tâche de synthèse pluridisciplinaire des apports du projet aux questions de la recomposition des identités de genre et des identités numériques dans le cadre des usages mémoriaux du web, en comparaison avec d'autres zones géographiques (Chine, États-Unis) (T4). Tout au long du projet (3 ans), la valorisation (T5) et la coordination (T6) font l'objet de tâches indépendantes. Le consortium rassemble 2 partenaires. Le partenaire 1 est le CIM de l'Université Paris 3, spécialiste de l'analyse des médias et des pratiques numériques (Équipe Médias, Culture et Pratiques Numériques, MCPN), auquel s'associent des membres du LabSic (Paris 13), spécialistes des usages des innovations, ces deux laboratoires étant unis par des liens de collaboration renforcés par l'inscription commune dans le PRES Sorbonne Paris-Cité. Le partenaire 2 est COSTECH, de l'Université de Technologie de Compiègne, laboratoire interdisciplinaire qui réfléchit à la place de la technique dans la société. Le consortium a pour thème de recherche commun les enjeux sociaux, politiques, économiques, symboliques et philosophiques des technologies de l'information et de la communication.
Fichier principal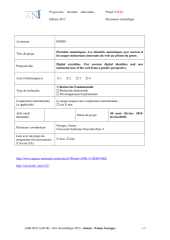 ENEID aap-soin-2013-Doc-Scientifique 050613-08h47.pdf (561.45 Ko)
Télécharger le fichier
Origin : Files produced by the author(s)