Small Peripheral Cities and Local Rootedness. The Examples of Méru and Senlis in the French Département (County) of Oise
Los pequeños núcleos periurbanos y el anclaje local de los habitantes. Los casos de Meru y Senlis, en Oise
Petites villes périurbaines et ancrage local des habitants. Les cas de Méru et Senlis dans l'Oise
Metropolitan areas are increasingly polycentric and tend to integrate small towns located in their periphery. The focus is on the position of small towns in the metropolitan structure and on their importance in inhabitants' living spaces. Through interviews carried out in Méru and Senlis in the North of Paris metropolitan area, small towns are found to provide effective resources to their inhabitants and to promote their local attachment, despite differences according to their social profile and residential context. Investigating both inhabitants' mobility practices and their spatial representations, this research contributes to a better understanding of the social diversity of local attachment processes within small cities located at the periphery of metropolitan areas.
Las áreas metropolitanas están marcadas por lógicas espaciales multipolares que se traducen principalmente en una integración creciente de pequeña ciudades o núcleos urbanos situados en sus bordes. A partir de un análisis de su papel en el espacio de vida de los residentes, este artículo interroga el lugar de esas pequeñas ciudades periurbanas en el funcionamiento metropolitano. Apoyándose en entrevistas llevadas a cabo en Meru y Senlis, muestra que estos pequeños núcleos situados al Norte de la aglomeración urbana de París constituyen lugares de recursos y de anclaje para los habitantes periurbanos. El estudio cruzado de las prácticas de movilidad de los habitantes y de sus representaciones espaciales permite, en particular, dar cuenta de la diversidad social de los procesos de anclaje local en los pequeños núcleos periurbanos.
Les espaces métropolitains sont marqués par des logiques spatiales multipolaires qui se traduisent notamment par une intégration croissante de petites villes situées sur leurs franges. Cet article s'interroge sur la place de ces petites villes périurbaines dans le fonctionnement métropolitain, à partir d'une analyse de leur rôle dans l'espace de vie des habitants. En s'appuyant sur des entretiens menés dans les secteurs de Méru et de Senlis, il montre que ces petites villes situées au nord de l'agglomération parisienne constituent des lieux de ressources et d'ancrage pour les habitants du périurbain. L'étude croisée des pratiques de mobilités des habitants et de leurs représentations spatiales permet notamment de rendre compte de la diversité sociale des processus d'ancrage local dans les petites villes périurbaines.
Fichier principal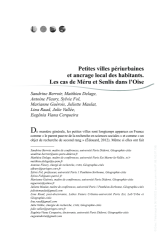 2017_Berroir et al_Petites villes périurbaines et ancrage local des habitants_Espaces et Sociétés.pdf (1.01 Mo)
Télécharger le fichier
Origin : Publisher files allowed on an open archive