Les effets du web 2.0 sur les pratiques et les dispositifs de veille
The impacts of web 2.0 on competitive intelligence practices and systems This study investigated whether Web 2.0 is fully adopted by the competitive intelligence actors, whether it transformed their professional practices and if it changed competitive intelligence systems in organisms. To answer these questions, a questionnaire survey was carried out among 283 people. The analysis of the responses showed that the CI actors adopted the Web 2.0. They consider it as an unavoidable source of information but insufficient for their activities. The new usage patterns of the information 2.0 seem well integrated but the functional benefits of the tools 2.0 are undeveloped. There were no great upheavals in the technical systems dedicated to competitive intelligence. The advent of Web 2.0 has not eclipsed the status and mission of the competitive intelligence specialists.
Cette étude cherche à savoir si le web 2.0 est pleinement adopté par les acteurs de la veille, s'il a transformé leurs pratiques professionnelles et s'il a modifié les dispositifs de veille. Pour répondre à ces interrogations, une enquête par questionnaire a été menée auprès de 283 personnes. L'analyse des réponses montre que les acteurs de la veille ont adopté le web 2.0. Ils le considèrent comme une source d'information incontournable mais insuffisantes pour leurs activités de veille. Les nouveaux modèles d'usage de l'information 2.0 semblent bien intégrés mais les avantages fonctionnels des outils 2.0 restent inexploitées. Il n'y a pas eu de bouleversements dans les dispositifs techniques dédiés à la veille. L'avènement du web 2.0 n'a pas éclipsé le statut et la mission des veilleurs.
Fichier principal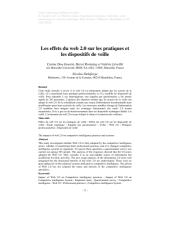 harmattan2015.pdf (1.13 Mo)
Télécharger le fichier
Origin : Files produced by the author(s)