Praxéologie du droit de la copropriété au Maroc : Radiographie ethno-méthodologique d'une résidence à Tanger
في هذه المساهمة، وإستنادا إلى دورنا المزدوج كنقابي قيّم على الملكيات المشتركة و باحث بمدينة طنجة، فإننا نطرح التساؤل حول العلاقة بين القانون والتنظيم في السياق المغربي للملكية المشتركة. هذا البحث يأخذ كمرجعية المجمع العقاري المتعدد الوظائف "طنجة بوليفارد"، الذي بني مؤخراً ويخضع لنظام الملكية المشتركة. وانطلاقاً من المعاينة التشاركية، تسعى هذه المساهمة إلى توصيف الجهات الفاعلة وذلك بمناسبة عملية نقل إدارة و تسيير الأجزاء المشتركة من المستثمر العقاري إلى المالكين المشتركين. كما نهدف إلى تسليط الضوء على صياغة قانون الملكية المشتركة في السياق المغربي بين التشريع والممارسة.
This contribution; based on our dual role of trustee and researcher in the city of Tangiers; proposes a questioning on the relationship between law and regulation in Moroccan context of co-ownership. It takes, its reference point, the real estate multifunction «Tanger Boulevard». It has recently built and subject to the status of co-ownership of the built buildings. From a participant observation, the contribution is intended to describe the actors on the occasion of the award procedure. It is for the management of the common parts of the property developer to co-owners. It aims out seizing the manufacture of co-ownership law in Moroccan context in the space between rule and practice.
Cette contribution, basée sur notre double fonction de syndic et chercheur dans la ville de Tanger, propose une interrogation sur les liens entre droit et régulation dans le contexte marocain de la copropriété. Elle prend comme point de référence l'ensemble immobilier multifonctions « Tanger Boulevard », récemment construit et soumis au statut de la copropriété des immeubles bâtis. A partir d'une observation participante, la contribution entend décrire le jeu des acteurs à l'occasion de la procédure de passation de la gestion des parties communes du promoteur immobilier aux copropriétaires. Elle ambitionne ainsi de saisir la fabrication du droit de la copropriété en contexte marocain dans l'espace entre règle et pratique.
Fichier principal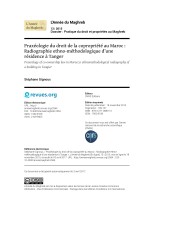 anneemaghreb-2564.pdf (456.63 Ko)
Télécharger le fichier
Origin : Publisher files allowed on an open archive