From Vital Reason to Historical Reason. The Philosophy of History as Handmaiden of Politics in the Writings of Ortega y Gasset (1923-1930)
De la razón vital a la razón histórica. La filosofía de la historia al rescate de la política en José Ortega y Gasset (1923-1930)
De la raison vitale à la raison historique. La philosophie de l'histoire au secours de la politique chez Ortega y Gasset (1923-1930)
Withdrawing from political activity in the wake of the crisis of 1917, Ortega y Gasset thereafter devoted himself to philosophy and an analysis of the crisis in Spain and Europe as a «crisis of Modern Times». The concept of vital reason, which he proposed to overcome the contradictions of modernity and pure reason, was worked out in the form of historical reason. The keystone of Ortega's philosophical oeuvre, historical reason enabled him to reintroduce the notion of politics by associating crisis of reason, the disenchantment of reason and the decline of revolutionary utopianism. While justifying its practical decline theoretically, Ortega was convinced of its long-term cultural effects and devised a political programme as an extension of his programme of philosophical research. In the final analysis, then, Ortega's proposition of vital and historical reason may be understood as the basis for a philosophical/political project.
Como consecuencia de la crisis de 1917, Ortega y Gasset se aleja de la actividad política, se dedica a la filosofía y analiza la crisis de España y de Europa como una «crisis de los tiempos modernos». El concepto de razón vital, que propone para superar las aporías de la modernidad y de la razón pura, se despliega bajo la forma de la razón histórica. La razón histórica, piedra angular del proyecto filosófico de Ortega, le permite recuperar la noción de política, asociando crisis de la razón, desencanto del idealismo y declive de la utopía revolucionaria. Al tiempo que justifica por medio de la teoría su retirada de la práctica, el autor apuesta por los efectos políticos a largo plazo de su acción cultural y prolonga el programa de investigación filosófica con un programa político. Así, en último análisis, es posible entender el proyecto orteguiano de la razón vital e histórica como el fundamento de un proyecto filosófico-político.
Ortega formalise la définition de la raison vitale autour de 1923-1924, analysant en philosophe la crise des Temps modernes. La raison vitale, outil du dépassement de la crise que connaît l'Occident, est formulée à partir du perspectivisme, qui implique que la raison vitale se déploie dans et par l'histoire. Ortega s'emploie durant les années vingt à fonder épistémologiquement son projet de raison historique en recourant à diverses sciences sociales, tout en commençant à appliquer la méthode de «l'historiologie» à la compréhension de la sphère politique: derrière la raison vitale et historique se profile ainsi une raison politique.
Fichier principal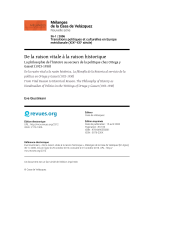 Fourmont Giustiniani_Raison Vitale_MCV.pdf (419.74 Ko)
Télécharger le fichier
Origin : Explicit agreement for this submission