Analyse morphologique de la pertinence du TOD et du modèle de Corridor Urbain dans l'arrondissement de Lille
This paper begins by a detailed description of the concept of Transit-Oriented Development (TOD) and its deriving model Urban Corridor. Then, follows by a presentation of the principal networks of our study area, the extended metropolitan area of Lille. The general acknowledgement of these basic theories and the study field led us to the following problematic: the corridor of urban mass transit (UMT) lead to an urban corridor morphologically speaking? By describing our methodology briefly, we attempt to answer to the raised issues by measuring two indicators: the density and the habitability. These indicators stem from the theories of urban economics, and reflect the logic of location choice of households and activities, depending on the generalized utilities of spaces. Finally, analysis of these indicators would allow us to demonstrate our assumptions and respond to the problematic.
Après une description détaillée du concept du Transit-Oriented Development (TOD) et du modèle de Corridor Urbain, nous présentons le réseau structurant de notre territoire d'étude, celui de l'arrondissement de Lille, à l'heure actuelle. La lecture de ces théories et la connaissance générale du terrain d'étude nous conduisent à poser ensuite notre problématique : le corridor de transports collectifs (TC) urbains mène-t-il à un corridor urbain morphologiquement parlant ? Suite à une description brève de notre méthodologie d'étude, nous essayons de répondre à la problématique posée en traitant deux indicateurs : la densité et l'habitabilité. Ces indicateurs sont basés sur l'économie urbaine et traduisent la logique de localisation des ménages et des activités en fonction de l'utilité des lieux. Enfin, l'analyse de ces indicateurs nous permet de démontrer nos hypothèses et de répondre à la problématique.
Fichier principal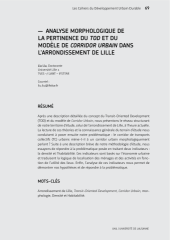 partie_5.pdf (1.13 Mo)
Télécharger le fichier
Origin : Publisher files allowed on an open archive