Façades of ceramic furniture raised in the lower valley of the Cèze (Gard), the second century B.C. and the sixth century A.D.
Faciès du mobilier céramique relevé en basse vallée de la Cèze (Gard), du IIe s. av. au VIe s. de n. è.
This ceramological study, part of an archeology thesis defended in 2014 focused on the population dynamics of the lower Ceze valley between the 2nd and 6th centuries, involves around thirty ancient archeological sites. The ceramic artefacts uncovered during two surveys of the oppidum of the Camp de Cesar at Laudun-l'Ardoise have been the subject of specialized studies, whereas the potsherds located during the prospective work were comprehensively recorded on location and subsequently documented. The analysis of the ceramic items, originating from sites located along the pedestrian archaeological prospection as well as surveys, enable a synthesis of productions and imports recorded in this micro-region of the mid Rhone valley.
Cette étude céramologique, extraite d'un doctorat d'archéologie soutenu en 2014 et portant sur les dynamiques de peuplement en basse vallée de la Cèze du IIe s. av. au VIe s. de n. è., concerne un ensemble d'une trentaine de sites archéologiques antiques. Le matériel céramique issu de deux sondage réalisés sur l'oppidum du Camp de César à Laudun-l'Ardoise a fait l'objet d'études particulières, alors que les tessons localisés sur des sites antiques au cours de campagnes de prospection, ont été intégralement relevé au réel sur le terrain et documentés par la suite. L'analyse de ce mobilier céramique, provenant aussi bien de sites localisés au cours de prospection archéologique pédestre que de sondages, a permis de réaliser une synthèse des productions et des importations recensés dans cette micro-région de la moyenne vallée du Rhône.
Fichier principal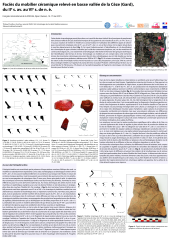 Poster SFECAG T. Canillos v1.pdf (9.73 Mo)
Télécharger le fichier
Origin : Files produced by the author(s)