TIC, tac, tic, tac… Du temps traqué au travail contrôlé : le cas du transport routier de marchandises
This paper is based on a research carried on road freight transport. It questions particularly the different links between modalities of control and the organization of time which is central to freighting. These organizations operate in a capitalist system where work is defined exclusively in terms of productive labour and time spent. This "abstract" representation of work encourages the implementation of a disciplinary society (disciplining the flow) and of a control society (the proliferation of digital footprints which induces behaviours), from the perspective of Foucault and Deleuze.
Este artículo está basado en una investigación sobre la evolución de las organizaciones y de los oficios en el sector del TCM (transporte por carretera de mercancías). Muestra las distintas relaciones entre las modalidades de control y la dimensión temporal que se sitúa en el centro de la organización de las mercancías transportadas. Las organizaciones evolucionan en un sistema capitalista, en donde el trabajo únicamente es considerado por la fuerza producida y por el tiempo utilizado. Desde la perspectiva establecida por Foucault y Deleuze, puede señalarse que esta representación "abstracta" del trabajo permite la instauración de una sociedad disciplinaria (la disciplina del flujo al cual se somete) a la vez que de una sociedad de control (la proliferación de los rastros digitales tiene efectos instigadores sobre los comportamientos).
Fichier principal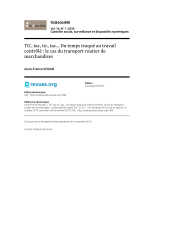 TIC Tac Tic Tac ticetsociete-1998.pdf (235.1 Ko)
Télécharger le fichier
Origin : Publication funded by an institution