Simulation of polarized optical speckle fields: effects of the observation scale on polarimetry
Modélisation de champs de speckle polarisés : impacts de l'échelle d'observation sur la polarimétrie.
In this paper, we propose the simulation of polarized speckle fields using the Stokes formalism, which allows the description of partially polarized electromagnetic waves. We define a unique parameter which determines the partial decorrelation of the involved fields, allowing to simulate the polarized speckles produced by all types of scatterers, from simple to multiple scatterers. We validate this model by comparison with experimental measurements. We use that simulation model to study the impact of the imaging device parameters on polarimetric measurements: first we emphasize a limit of resolution on retardance measurements, then we study the spatial depolarization, which appears when an observer is measuring any space-variant polarization map.
Dans cet article, on propose la simulation de champs de speckle polarisés en utilisant le formalisme de Stokes, qui permet la description d'ondes électromagnétiques partiellement polarisées. On définit un unique paramètre déterminant la corrélation partielle des champs impliqués, ce qui permet de simuler les champs de speckle polarisés produits par toutes sortes de diffuseurs, du diffuseur simple au diffuseur multiple. On valide ce modèle par comparaison avec l'expérimentation. On utilise le modèle pour étudier l'impact des paramètres du dispositif d'imagerie sur la mesure polarimétrique : tout d'abord on met en évidence une limite de résolution concernant les mesures de biréfringence, ensuite on étudie la dépolarisation spatiale, qui apparait dès qu'un observateur mesure une carte de polarisation variant spatialement.
Fichier principal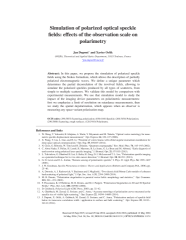 DOTA16017.1455096418-2.pdf (6.71 Mo)
Télécharger le fichier
Origin : Files produced by the author(s)