Conférence internationale de Paris sur le climat en décembre 2015 : comment construire un accord évolutif dans le temps ?
A few weeks before the opening of the 21st Conference of the Parties to the UNFCCC, one can hardly predict the outcome of international climate talks. Looking at the difficulties encountered by Parties to negotiate the so-called Paris Accord, the Durban Platform for enhanced action (ADP) may only be able to reach a minimal agreement. Under these circumstances, it is crucial to design an agreement which can be flexible enough to allow those States who have not taken any quantified or comprehensive commitments to progressively raise the level of ambition of their nationally determined contributions in reflection of evolving scientific knowledge and technological developments, in order to initiate a virtuous dynamic. To this end, this article explores two approaches, which can be envisaged in complementary manner: the use of flexible procedures to review the agreement on the one hand, and the introduction of a so-called "ambition mechanism" based notably on a cycle of commitments on the other hand.
Quelques mois avant la tenue de la 21e conférence des Nations Unies sur les changements climatiques, l'issue des négociations reste très incertaine. Au regard des difficultés rencontrées par les Parties pour négocier l'accord de Paris, la Plateforme de Durban n'aboutira vraisemblablement qu'à un accord a minima. Dans ces conditions, sous peine de figer le régime international du climat post 2020 à un faible niveau d'ambition, il est impératif de construire un accord qui soit flexible dans le temps pour permette aux États qui n'auront pas pris d'engagements chiffrés ou des engagements insuffisants de relever progressivement le niveau d'ambition de leurs « contributions nationales » en tenant compte de l'évolution des connaissances scientifiques et techniques, et créer ainsi dynamique vertueuse. Deux voies complémentaires seront ici explorées : le choix de procédures souples de révision et l'instauration d'un mécanisme dit « d'ambition ».
Fichier principal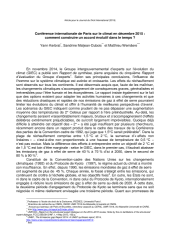 Article_JDI_def.pdf (307.25 Ko)
Télécharger le fichier
Origin : Files produced by the author(s)