"Could Bolívar be a hero?"
"¿Será Bolívar un héroe?"
« Bolivar est-il un héros ? »
This article seeks to clarify doubts regarding an epithet commonly associated with Simón Bolívar, namely «father of the country» [padre de la patria]. It offers an analysis of the particular context in which it was applied in the time of independence movements, as a means to a clearer understanding of the paradoxes in the heroisation of a figure who came to be worshipped almost as a demi-god throughout a continent. To that end we emphasise the use of this term in New Granada beginning in the 16th century: then, founders of townships and presidents of the Real Audiencia were hailed as new Romuluses until a more Augustan sense of the term came into preferential use in the latter years of the 18th century. During the «New Granada interregnum» (1810-1816), the term retained the ambiguity of the classical tradition, namely the hailing of republican heroes—like Camillus, Fabius, Cincinnatus or the Scipios—and their imperial epigones alike as the first «hero of the century». To distance themselves from the Augustan tradition, associated with the Bourbons, Bolívar and his supporters sought to place the emphasis on another epithet more attuned to the republican essence of their struggle—that is, Liberator, like Brutus the Younger. By 1823 the growing association of the two epithets Liberator and Father of the Country was already raising suspicion of a ravenous appetite for glory in their bearers. As a result, Andrés Bello sought to downplay Bolívar's reputation from London, above all others the source-point of its fabrication: and so he acclaimed other Venezuelan and New Granadan heroes before taking exile in Chile in 1829, where he stood up as the herald of domestic heroism, the only kind attuned to Freedom in the minds of Modernists.
El presente trabajo propone aclarar el equívoco de un epíteto comúnmente asociado a Simón Bolívar: «padre de la patria». Se trata de analizar el contexto propio de su atribución, durante las independencias, para entender mejor las paradojas de la heroización de quien llegaría a ser celebrado hasta como demiurgo de un continente entero. Para ello, enfatizamos el uso de esta locución en la Nueva Granada desde el siglo XVI, donde fundadores de urbes y presidentes de la Real Audiencia fueron celebrados entonces como nuevos Rómulos antes de que se impusiera el significado más nítidamente augusteo del epíteto en las postrimerías del siglo XVIII. Durante el «interregno neogranadino» (1810-1816), la locución no se deshizo de un equívoco que conllevaba la tradición clásica: celebrar tanto a héroes republicanos —como Camilo, Fabio, Cincinato o los Escipiones— como al primer «héroe del siglo» y sus epígonos imperiales. Frente al registro de los laúdes de Augusto, asociado a los Borbones, Bolívar y sus partidarios trataron de poner el énfasis en otro epíteto más conforme con el significado republicano de su combate: Libertador, tal Bruto el Joven. La asociación creciente de ambos epítetos, Libertador y Padre de la Patria, acarreó ya en 1823 la sospecha de un desenfrenado apetito por la gloria de quien los llevaba. Andrés Bello trató de aminorar la fama de Bolívar desde Londres ensalzando a otros héroes venezolanos y neogranadinos, antes de viajar a Chile en 1829 donde se haría el heraldo del heroísmo doméstico.
Cet article se propose de réduire l'ambiguïté liée à l'épithète communément associée à Simon Bolivar de « père de la patrie ». Il s'agit d'analyser le contexte authentique de son attribution, à l'époque des indépendances, afin de mieux cerner les paradoxes de l'héroïsation de celui qui parviendrait à être qualifié de démiurge d'un continent tout entier. Afin d'y parvenir, nous mettons l'accent sur l'usage de cette locution en Nouvelle-Grenade depuis le XVIe siècle : plusieurs fondateurs de villes et présidents de l'Audience royale y ont fait figure de nouveaux Romulus, avant que l'expression ne revête un sens plus nettement augustéen à la fin du XVIIIe siècle. Durant l'interrègne néo-grenadin (1810-1816), la locution n'a pu se départir d'une équivoque propre à la tradition classique : s'appliquer à la fois aux héros républicains — tels Camille, Fabius, Cincinnatus ou les Scipions — et au premier « héros du siècle » comme à ses épigones impériaux. Afin de se dégager du registre augustéen associé aux Bourbons, Bolivar et ses partisans ont essayé de mettre l'accent sur une autre épithète plus à même de traduire le caractère républicain de leur combat : libérateur, à l'image de Brutus le Jeune. L'association croissante des deux épithètes de libérateur et de père de la patrie a fait peser sur celui qui les portait le soupçon d'un appétit sans limites pour la gloire. Aussi, Andrés Bello a-t-il œuvré à rabaisser la renommée de Bolivar dans la ville même où elle s'élaborait : Londres. Il fit l'éloge d'autres héros vénézuéliens et néo-grenadins, avant de partir en exil au Chili, en 1829. Il y défendit l'héroïsme domestique, le seul qui soit conforme à la Liberté des Modernes.
Fichier principal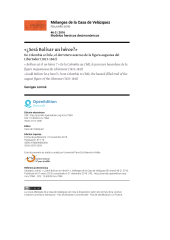 GLomné_2016_¿Será_Bolívar_un _héroe? (1).pdf (377.37 Ko)
Télécharger le fichier
Origin : Publisher files allowed on an open archive