Better Teachers, Better Results? Evidence from Rural Pakistan
Using a gain model with three different levels of fixed effects, this paper empirically esti-mates the impacts of teachers on students' achievement in three districts in the rural province ofPunjab in Pakistan. The model-based results suggest that teachers' factors do explain students'achievement. Increasing teachers' wages could improve schooling quality along with recruitinglocal teachers with non-permanent contracts. Recruiting local teachers has an important posi-tive impact on students' achievement especially for girls. It could therefore reduce gender basedinequalities of academic achievement. Furthermore, our analysis suggests that policy reforms con-cerning training programs and re-thinking wage policies should be on the agenda of future research.
Ce papier évalue l'impact des professeurs sur les résultats scolaires des élèves dans trois districtsde Punjab au Pakistan. Les résultats de cette étude indiquent que les différences d'enseignants ex-pliquent partiellement la réussite scolaire des élèves. Les élèves qui ont un professeur mieux payé,engagé avec un contrat temporaire et originaire de la même région que l'école ont de meilleursrésultats. Recruter des professeurs locaux est associé à un gain de connaissances supérieur pourles filles par rapport aux garçons. De plus, notre analyse suggère que des réformes concernant lesprogrammes de formation des professeurs devraient être mises en place.
Fichier principal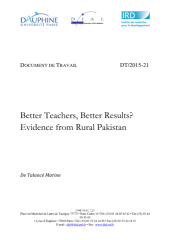 2015-21.pdf (1.12 Mo)
Télécharger le fichier
Origin : Files produced by the author(s)