Dispositifs & installations artistiques : étude de la topologie des interactions collectives co-localisées
Art installations that enable co-located collective interac- tions rarely call the execution of a task or a preannounced goal as a guideline for the activity. If this new configuration, which differs from those of traditional HCI, is revealed, from the perspective of aesthetic experience, to be one of the richest and most 'engaging' ones, it is by no means less complex to apprehend for both the artist and the end-user. Through a case study (with concrete examples of artistic installations), we propose in this present article to exam- ine the topological configurations of existing co-localized collective interaction by analyzing the scope of actions of the systems' agents and the relations between them. To achieve this, we lay the foundations of a new graphical lan- guage (used here to describe the relations between inter- faces), which we foresee to dedicate, in the near future, to the modeling, visual representation and taxonomic analysis of topologies of interaction.
Les dispositifs artistiques mettant en oeuvre des interactions collectives co-localisées n'appellent que rarement l'exécution d'une tâche ou d'un objectif énoncé au préal-able servant de conducteur à l'activité. Si cette nouvelle configuration, qui se différencie de celles de l'IHM tradition-nelle, se révèle, du point de vue de l'expérience esthétique, l'une des plus riches et 'engageantes', elle n'en demeure pas moins complexe à appréhender (sur le plan perceptivo-cognitif) tant pour l'artiste que pour l'utilisateur final. Fort d'une étude de cas (exemples concrets d'installations artis-tiques), nous nous proposons au sein de ce présent article d'examiner quelques unes des configurations topologiques d'interaction collective co-localisée aujourd'hui à l'oeuvre en partant d'une analyse du champ d'action des agents du système et de leurs interactions. Pour ce faire, nous y je-tons les bases d'un nouveau langage graphique (ici utilisé pour décrire les relations d'interfaçage) que nous envis-ageons ultérieurement dédier à la modélisation, représen-tation et analyse taxonomique visuelle des topologies de l'interaction.
Fichier principal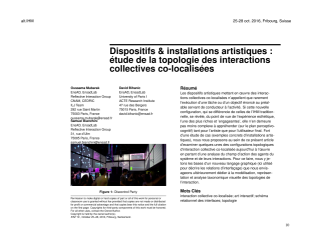 p10-mubarak.pdf (2.36 Mo)
Télécharger le fichier
Origin : Files produced by the author(s)