Une revue, des règles, un rôle dans le champ du management stratégique
After having presented the definition of strategic management from which the contribution of FCS can be recognized, the article moves on to examine two issues closely related to the dynamics of knowledge production in this domain. The first issue is found within the space defined by the empirical and analytical dimensions and concerns the risks for the knowledge process brought about by an obsession with theoretical novelty. The second issue concerns the thematic content of strategic management research. This content can be viewed as structured along various dimensions, each of them being composed of a thematic couple, such as the one that associates organization and strategy. This thematic space, which can be thought of as orthogonal to the space defined by empirical and analytical dimensions, is where strategic management is invented, where oppositions emerge, and where the question of their synthesis can be raised.
Après avoir présenté la définition à partir de laquelle peut être appréciée la contribution de FCS au management stratégique, cet article se structure autour de deux préoccupations qui ont trait à la dynamique de production des connaissances dans le champ. La première s'inscrit dans le plan défini par les dimensions empi-rique et analytique. Elle concerne le risque que l'obsession de la nouveau-té théorique fait courir au processus de connaissance. La seconde préoccupation touche au contenu thématique de la recherche en management stratégique. Constitué de couples, comme celui que forment organisation et stratégie, cet axe thématique, que l'on peut concevoir comme orthogonal aux dimensions empirique et analytique est le lieu où s'invente le management stratégique, où des oppositions se nouent et où se pose la question de leur éventuel dépasse-ment. Mots clés : management stratégique – revues scientifiques – politiques éditoriales – développement de la con-naissance – obsession pour la théorie.
Fichier principal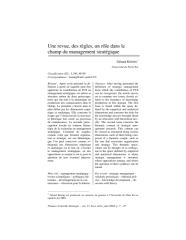 Koenig G. FCS juin 08 Revue, règles, rôle.pdf (199.73 Ko)
Télécharger le fichier
Origin : Publisher files allowed on an open archive