The impact of eucalypt on the leaf-associate aquatic hyphomycetes in Spanish streams
Aquatic hyphomycete assemblages on decomposing leaf litter of the exotic species Eucalyptus globulus Labill. were compared with those on the native riparian species Alnus gluti~zosa(L.) Gaertn. in three low-order streams of the Agiiera watershed (Basque Country - Cantabria, Spain). These streams contrast by the importance of eucalypt in the riparian vegetation and by the nutrient contents in the water. Neither the total conidial production nor the number of fungal species differed between the two leaf species in any of the streams. Fungal colonization of eucalypt leaves appeared to be delayed by about 2 weeks, probably owing to their high content in inhibitory constituents. While Flagellospora curvula Ingold largely dominated pioneer assemblages on both leaf species, the second most important species, Lunulospora curvula Ingold, exhibited a preference for eucalypt. In the stream surrounded by eucalypt, the fungal diversity was surprisingly lower on eucalypt than on alder. In the stream with higher orthophosphate concentrations, the conidial production was similarly increased on both leaf species. The present data together with recent results from a similar investigation in Portugal suggest a minor impact of eucalypt on the activity and diversity of aquatic hyphomycete leaf-associated assemblages in southern European streams.
Les communautés d'hyphomycètes aquatiques associées aux litières en décomposition de l'espèce exotique Eucalyptus globulus Labill. ont été comparées à celles de l'espèce riveraine indigène Alnus glutinosa (L.) Gaertn. dans trois rivières de faible numéro d'ordre du bassin de l'Agüera (Pays Basque – Cantabrique, Espagne). Ces rivières contrastent par l'importance de l'eucalyptus dans la végétation riveraine et par les teneurs en nutriments dans l'eau. Quelle que soit la rivière, ni la production conidienne totale, ni le nombre d'espèces fongiques des deux espèces foliaires ne diffèrent. La colonisation fongique des feuilles d'eucalyptus apparaît seulement retardée d'environ deux semaines, en raison probablement de leurs fortes teneurs en composés inhibiteurs. Alors que Flagellospora curvula Ingold domine largement les assemblages pionniers sur les deux espèces foliaires, la seconde espèce en importance, Lunulospora curvula Ingold, marque une préférence pour l'eucalyptus. Dans la rivière entourée d'eucalyptus, la diversité fongique est curieusement plus faible sur l'eucalyptus que sur l'aulne. Dans la rivière caractérisée par les plus fortes teneurs en orthophosphates, la production conidienne est augmentée de façon identique sur les deux substrats foliaires. Les présentes données associées aux résultats d'une étude semblable au Portugal suggèrent un impact mineur de l'eucalyptus sur l'activité et la diversité des communautés d'hyphomycètes aquatiques associées aux litières dans les rivières du Sud de l'Europe.
Fichier principal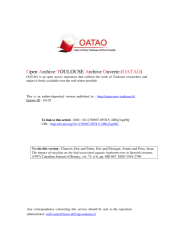 Chauvet_16128.pdf (2.37 Mo)
Télécharger le fichier
Origin : Files produced by the author(s)