Cartographier les acteurs d'un territoire : une approche appliquée au patrimoine industriel textile du Nord-Pas-de-Calais
The management of cultural heritage is a complex task that involves the commitment of several types of stakeholders (institutions, associations, enterprises and individuals) at any scale, from local to regional, from national to international. To protect and enhance heritage items scattered in the territory, it is crucial to have a shared understanding of heritage objects. To build such knowledge, the actors in charge of a property have to exchange various types of data with other actors that lead their action on the same territory. This paper presents the preliminary results of TECTONIQ project, led by the GERiiCO laboratory of the University of Lille 3, which aims to study the digital devices used to enhance the industrial textile heritage of Nord-Pas-de-Calais (French region). As part of this project, an interdisciplinary methodology was developed to identify the actors involved and to map their relationships.
La gestion du patrimoine culturel d'un territoire est une tâche complexe qui implique l'engagement de différents types d'acteurs (institutions, associations, entreprises et individus) à toute échelle, du local au régional, du national à l'international. Pour protéger et valoriser les biens dispersés sur le territoire, il est primordial d'avoir une connaissance partagée des objets patrimoniaux. Pour construire une telle connaissance, les acteurs en charge d'un bien se trouvent à devoir échanger différents types de données avec les autres sujets qui conduisent leur action sur le même territoire. Cette communication présente les résultats préliminaires du projet TECTONIQ qui vise à étudier les dispositifs numériques mis en place pour valoriser le patrimoine de l'industrie textile sur le territoire du Nord-Pas-de-Calais. Dans le cadre de ce projet, une méthodologie interdisciplinaire et a été développée pour identifier semi-automatiquement les acteurs concernés par ce patrimoine et cartographier les relations qu'ils entretiennent entre eux.
Fichier principal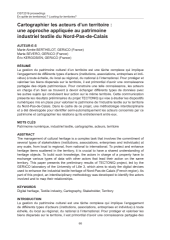 cist2016_cartographie_acteurs_dun_territoire_patrimoine_industriel_textile_nord_pas_de_calais.pdf (899.06 Ko)
Télécharger le fichier
Origin : Files produced by the author(s)