Perceptions, pratiques et discours « RSE » des dirigeants de PME
Résumé
Notre proposition de communication explore la perception multi-facettes de la problématique de la Responsabilité Sociétale de l'Entreprise par les dirigeants de PME. L'objectif est de présenter et d'illustrer l'ensemble des composantes du concept RSE mobilisées par les dirigeants de PME au prisme de leurs perceptions, de leurs discours et de leurs pratiques. 
Pour éclairer ce champ, nous allons nous appuyer sur un cadre théorique mobilisant la théorie des ressources et compétences naturelles ainsi que la théorie des parties prenantes. Cette combinaison nous semble en effet représenter un cadre robuste pour étudier quelles actions sont réalisées, pour qui et pourquoi. La recherche qualitative, menée sur trois PME, illustre le cadre conceptuel. Les résultats montrent notamment que les dirigeants de PME construisent des représentations et des discours spécifiques de la RSE. Notre étude permet également de mieux caractériser les logiques, les pratiques de RSE et leur degré variable de formalisation au sein des PME.
Mots-clés : RSE, PME, discours, perceptions, pratiques. 
Abstract
Our contribution explores the multi-facet perception of the Corporate Social Responsibility by SME managers. We propose to present and illustrate all components of the CSR concept mobilized by SME managers through their perceptions, speeches and practices. To deal with this field, we will rely on a theoretical framework mobilizing the natural based view and the stakeholder theory. This combination seems indeed represent a robust framework to investigate what actions are carried out, for whom and why. Qualitative research, conducted over three SMEs, illustrates this conceptual framework. The results show in particular that SME managers are building specific representations and discourse of CSR. Our study also helps to better characterize logic, CSR practices and their varying degrees of formalization in SMEs. 
Key-words : CSR, SMEs, speeches, perceptions, practices
Fichier principal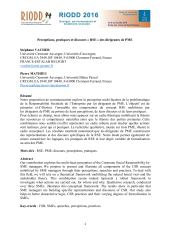 RIODD_2016_VACHER_MATHIEU.pdf (802.71 Ko)
Télécharger le fichier
Origin : Files produced by the author(s)