How to ignore what one already knows: Domesticating uncomfortable knowledges about pesticide poisoning among farmers
Comment ignorer ce que l'on sait ?
Current research into the social construction of ignorance holds either that it is produced by conscious strategies or that it is an unintended effect of knowledge production organization. The present article moves beyond that opposition by bringing in the reflexivity of actors implicated in the organized systems that produce ignorance. What happens when those actors become aware of limitations in the routines that structure their action? What change dynamics are triggered by this new awareness? The case analysed here is the French public policy devoted to prevent farmers from pesticides poisoning. By studying the ban of the sodium arsenite in France in 2001, we show how this policy can manage "uncomfortable" knowledges that challenge its ordinary institutional arrangements. We bring to light the mechanisms by which the organizations that produce these uncomfortable knowledges also provide their members with "good reasons" to ignore it, defusing or neutralizing their critical faculties and avoiding undertaking the institutional changes that clearly should be made in response to that knowledge.
Les recherches actuelles sur la construction sociale de l'ignorance soutiennent que cette dernière est soit le fruit de stratégies conscientes, soit l'effet involontaire d'un mode d'organisation de la production de connaissances. Cet article propose de dépasser cette opposition en introduisant la question de la réflexivité des acteurs des systèmes organisés qui produisent de l'ignorance : que se passe-t-il lorsque ces acteurs prennent conscience des limites des routines qui structurent leur propre action ? Quelles dynamiques de changement résultent de cette prise de conscience ? Le cas étudié ici est celui du dispositif de prévention des intoxications professionnelles induites par les pesticides en France. En prenant appui sur l'interdiction de l'arsenite de soude (2001), nous montrons comment ce dispositif parvient à s'accommoder des savoirs « inconfortables » susceptibles de remettre en cause ses arrangements institutionnels ordinaires. Nous mettons en évidence les mécanismes par lesquels les organisations qui produisent ces savoirs offrent à leurs membres de « bonnes raisons » de les ignorer, en désamorçant leur sens critique et en évitant d'œuvrer aux changements institutionnels qui devraient découler de leur prise en considération.
Fichier principal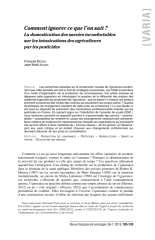 2015-dedieu-jouzel-comment-ignorer-ce-que-l-on-sait.pdf (210.39 Ko)
Télécharger le fichier
Origin : Publisher files allowed on an open archive